What Will The US Do To Russia? With Putin Hack, Cyberattack On The Election And DNC, Obama Vows 'Action'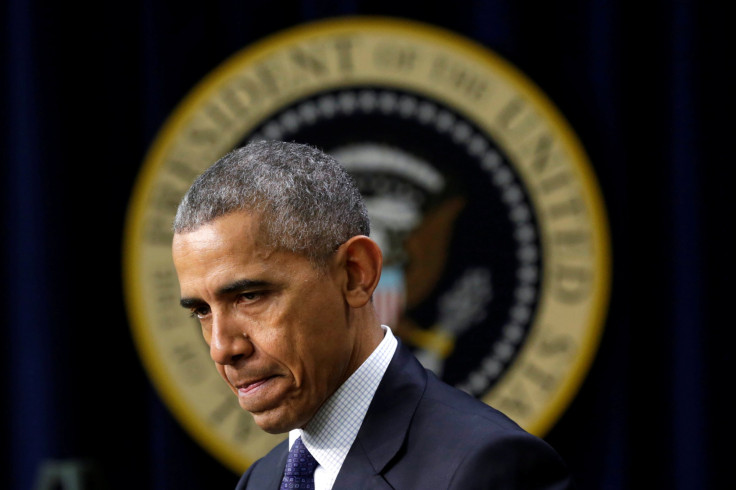 The U.S. will definitely "take action" against Russia for launching cyber-attacks and trying to influence the presidential election, President Barack Obama told NPR in an exclusive interview released in part on Thursday.
"I think there is no doubt that when any foreign government tries to impact the integrity of our elections ... we need to take action," Obama told Steve Inskeep, the host of NPR's Morning Edition program, which was set to air the full interview on Friday. "And we will — at a time and place of our own choosing. Some of it may be explicit and publicized; some of it may not be."
Obama didn't hint at any particular possibility, but at the same time he promised a retaliatory effort against the country that has increasingly exhibited aggressive posturing toward the U.S. in recent years.
"There are still a whole range of assessments taking place among the agencies," the president continued in part.
What exactly those "assessments" could lead to is anyone's guess, but considering the two countries' current, rivaling interests in Syria, the U.S. could react in a number of effective ways.
One route the U.S. could consider is to launch a cyberattack of its own against Russia, which is expecting its own national elections in 2018. Polling there has already gotten underway, showing most Russian citizens are in favor of re-electing President Vladimir Putin. The Russian president had not yet formally declared his candidacy. The U.S. intelligence community has charged that Putin was not only aware of the hacking, but personally involved in it.
While a cyberattack is against the law in most cases, there are ways the U.S. could escape committing an international crime for hacking, so long as national security was at stake, according to a Columbia Law School scholarly paper published in 2013.
Another, more immediate possibility, is for the U.S. to move swiftly before Obama leaves office and President-elect Donald Trump is inaugurated Jan. 20. Trump has spoken positively of Putin and the future of Russian-American relations.
The U.S. has resented Russia's military intervention in Syria, which was in the throes of civil war and served as ground zero for the U.S.-led war against the Islamic State. The terror group also known as ISIS was benefitting from Russia's military presence there, Obama said in October.
Even further, Russia claimed victory Thursday for establishing Syrian government control over the violence stricken city of Aleppo, which was previously controlled by rebel forces. That assertion was likely not greeted warmly by the Obama administration, which urged a ceasefire between the warring sides long enough to evacuate civilians.
But now that a Syrian human rights group has formally accused Russia of war crimes, the U.S. could try to make an extra push to punish Putin and any other officials or persons it blames for alleged hacks on the 2016 presidential election as well as the Democratic National Committee's emails. However, Russia removed itself from the International Criminal Court in November, making it unclear if the U.S. would even have a legal option to explore at all.
Putin has a clear motive for authorizing the political cyberattacks, a former ambassador to Russia told NBC News.
"He has had a vendetta against Hillary Clinton, that has been known for a long time because of what she said about his elections back in the parliamentary elections of 2011," said Michael McFaul, who was an American diplomat in Russia from 2012 to 2014. "He wants to discredit American democracy and make us weaker in terms of leading the liberal democratic order. And most certainly he likes President-elect Trump's views on Russia."
Read the exclusive NPR report here.
© Copyright IBTimes 2023. All rights reserved.