What's The Best Way To Eat Steak? President Trump Likes It Well Done With Ketchup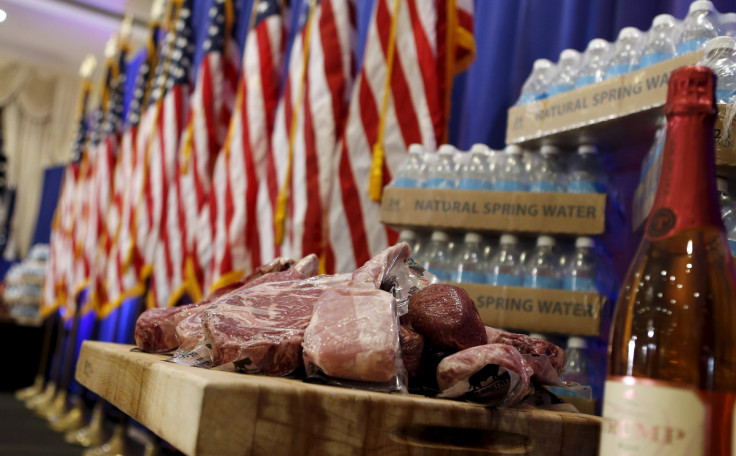 This weekend President Donald Trump ventured out to his favorite Washington, D.C. restaurant — his own — and ordered a $54 dry-aged steak. And in what could be an issue that brings bipartisan condemnation, the president ordered that fine piece of meat charred until it was well-done, while, of course, requesting some ketchup on the side.
Even former Arkansas Gov. Mike Huckabee — a lock, stock and barrel Trumper if there ever were one — veered away from the president on this stance. "My first big divide with @POTUS-he eats steak well done with ketchup," Huckabee tweeted Tuesday morning. "Nasty and sacrilegious! GOOD steak is med rare and NO sauces! C'mon!"
Benny Johnson, a writer for the conservative site Independent Journal Review, was tipped off about Trump's dining plan, which was off-limits to the press. He booked a table near the president in his White House-adjacent restaurant BLT Steakhouse. Johnson wrote about Trump's evening in detail, but was tipped off to the president's order by the wait staff.
A waiter who wished to remain anonymous reportedly said, "The president ordered a well-done steak. An aged New York strip. He ate it with catsup as he always does."
That's an interesting way to consume a 28-day dry aged steak that'll cost you more than half a Benjamin. Most every chef and food enthusiast will tell you that the best way to eat a good steak would be medium rare or rare. People have poked fun at the president online, questioning his choice to both overcook the steak and to douse it with a sugary tomato condiment.
But Trump's preference for overcooked steaks is long documented. His longtime butler told the New York Times last March that Trump liked his steak charred so thoroughly "it would rock on the plate."
Trump's overall food preferences are notoriously eccentric, which he has previously tied to his self-described germophobia. That's the main reason why Trump regularly dined on fast food like Kentucky Fried Chicken or McDonald's during the campaign.
"One bad hamburger, you can destroy McDonald's. One bad hamburger and you take Wendy's and all these other places and they're out of business," Trump told CNN's Anderson Cooper. "I like cleanliness, and I think you're better off going there than maybe some place that you have no idea where the food is coming from."
© Copyright IBTimes 2023. All rights reserved.