When Did Jeb Bush Become A Gun Owner? Tweet Of Personalized Firearm Draws Mockery On Twitter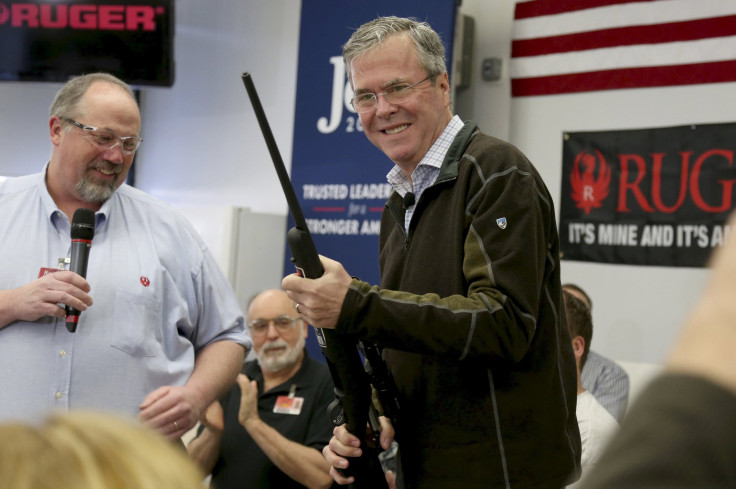 Republican presidential candidate Jeb Bush brought on a Twitter backlash Tuesday after posting a photo of a gun, simply captioned "America." The handgun inscribed with his name may have been a first for the former Florida governor: Bush claimed to not own any firearms, according to a gun ownership survey of Republican presidential candidates in September by the Telegraph of Britain.
The gun tweet Tuesday came the same day that Bush visited FN Manufacturing, a high-security firearm company in Columbia, South Carolina. "The purpose was we went to a gun manufacturing facility where lots of jobs are created, high-wage jobs. And I received a gun and I was honored to have it," Bush told CNN.
Bush's photo prompted a wave of tweets mocking him, even from U.S. National Security Agency whistleblower Edward Snowden, who is now living in exile in Russia. "Delete your account," Snowden responded to Bush's photo.
Bush has made the case on the campaign trail for the gun ownership protections described in the Second Amendment, saying the country should consider both safety and gun rights.
"Florida is a pro-gun state. Gun violence has dropped. There's a reason for it," Bush said at a June 27 campaign event in Nevada, CNN reported. "We created a balance that's focused on lowering gun violence but protecting the Second Amendment, and it's a model for many other countries and many other states because of that. These cases of people who are just mentally deranged — we as a society better figure out how we identify these folks long before they feel compelled to take up a gun and kill innocent people."
Pulitzer Prize-winning journalist and author Glenn Greenwald was one of the many who took to Twitter to react to Bush's photo. "Ponder all the psychological anxieties and insecurities that would cause someone to post this," Greenwald wrote, adding, "This is basically a version of the self-posted picture that ended Anthony Weiner's political career." Weiner, a former congressman from New York, posted a lewd photo to Twitter in 2011 that resulted in scandal and his resignation.
Another Twitter user pointed out the difference between Jeb and his father, former President George H.W. Bush, whom he refers to as "the greatest man alive."
The tweet joins a long list of social media failures this campaign season: Democrat Hillary Clinton was mocked when she asked her Twitter followers to express their feelings about student loan debt "in 3 emojis or less." New Jersey Gov. Chris Christie, a Republican who has since ended his presidential candidacy, appeared to draw more critics than supporters when he used the hashtag #TellingItLikeItIs on Twitter.
© Copyright IBTimes 2023. All rights reserved.