When Has Trump Been Accused Of Rape Or Attempted Rape? Three Times Women Have Pressed, Then Dropped Charges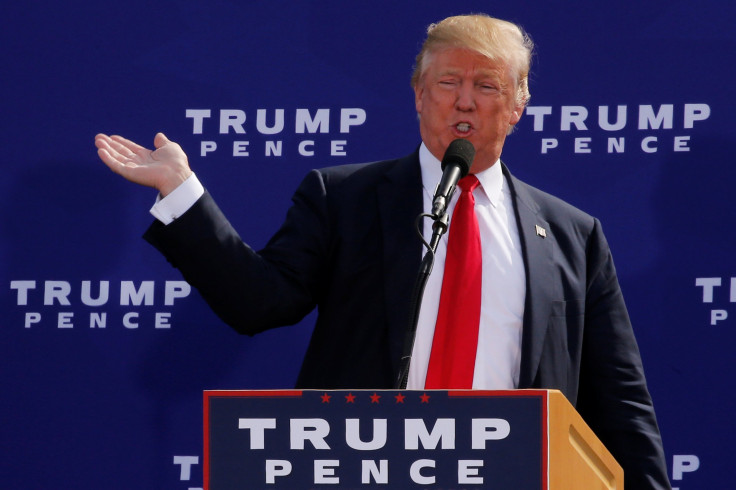 Four days before Americans voted Donald Trump into the nation's highest office, a woman reportedly dropped charges of rape against the real estate magnate. But, while Trump's many inappropriate and unwanted comments and actions toward women are well known, the woman, who went by a pseudonym Jane Doe, isn't the first to press and then drop rape or attempted rape charges against the president-elect.
Ivana Trump in 1990: In her divorce deposition, Trump's first wife Ivana recalled an incident in which her husband returned home fuming after a painful operation to correct for hair loss—conducted by a cosmetic surgeon Ivana had recommended. As Harry Hurt wrote in the 1993 biography "Lost Tycoon: The Many Lives of Donald J. Trump," the billionaire ripped a handful of hair from his wife's head, then violated her.
"It was sworn testimony," Hurt told the New Yorker in October. He added, regretfully, that while two of Ivana's friends had confirmed her testimony, Hurt had thrown out the deposition document at some point during his own divorce. "The larger tragedy is that Trump might be elected president of the United States. I never imagined in my wildest nightmares that it would come to this."
Ivana—who said she spent that night of the alleged assault locked in her bathroom crying after her husband mockingly asked her, "Does it hurt?"—later agreed to a $14 million divorce settlement, according to a 1991 New York Times report. But prior to the agreement, and to Hurt's chagrin, lawyers representing Donald Trump pushed the "Lost Tycoon" publisher to insert in every copy a paper containing a statement from Ivana. In the note, she confirmed that she had indeed claimed in the deposition that her former husband had "raped" her, but cautioned that she didn't want the accusations to hold "literal or criminal" meaning, adding that, "as a woman," she "felt violated."
Jane Doe, also known under pseudonym Katie Johnson, in 1994: As of October, the president-elect was set to head to court on Dec. 16 over allegations that he and Jeffrey Epstein, who has his own history of sex crimes, raped a woman when she was 13 years old.
The details of the case are murky, however. The original lawsuit, filed in June, accuses the two billionaires of "rape, sexual misconduct, criminal sexual acts, sexual abuse, forcible touching, assault, battery, intentional and reckless infliction of emotional distress, duress, false imprisonment and defamation" of "Jane Doe" at Epstein's Manhattan residence. But the New York district court order for Trump and Epstein didn't outline any charges. It only requested whatever information the defendants might have, such as "a brief description of prior settlement discussions (without disclosing the parties' offers or settlement positions)" and "any other information that the parties believe may assist that Court in advancing the case to settlement or trial."
And, as the Guardian found in July, a former producer on "The Jerry Springer Show" associated with several disputed cases related to such celebrities as Kurt Cobain and O.J. Simpson was behind the lawsuit, while a publicist using a pseudonym had been trying to sell a video to multiple media outlets showing the accuser, then under the false name "Katie Johnson," wearing a disguise as she recounted the incident.
On Nov. 2, the plaintiff backed off of plans to go public, leaving a planned press conference in the hands of her lawyer out of fear of death threats, the Guardian reported. Finally, the day before the election, the Daily Mail published the woman's Nov. 4 notice of voluntary dismissal. Trump's campaign has refuted the claims.
Jill Harth in 1997: Harth, a makeup artist, was visiting Trump's Mar-a-Lago mansion in Florida more than 20 years ago with her then romantic partner, George Houraney, to finalize a business deal with the competition "American Dream Calendar Girls" when Trump attempted to rape her, she told the Guardian.
"He pushed me up against the wall, and had his hands all over me and tried to get up my dress" after bringing her into one of his children's bedrooms, she said, describing her shock, as Trump knew Houraney was in the other room. "I had to physically say, 'What are you doing? Stop it.'"
Harth filed a lawsuit against Trump in 1997—which cited a lengthy catalogue of Trump's lewd comments and behaviors against women, including his alleged 1990 rape of Ivana—alleging that he "forcibly kissed, fondled and restrained [the] plaintiff from leaving, against [the] plaintiff's will and despite [the] plaintiff's protests." She dropped the lawsuit weeks after filing it, around the time Houraney settled a separate, business-related lawsuit with Trump.
Along with the suit by Jane Doe, or Katie Johnson, Trump's campaign dismissed Harth's allegations when she went public via the New York Times in July. But Houraney, who has known Harth since the two were in high school, dismissed the possibility that they were dubious.
"I know they're all true," he told the Guardian, referring to the accusations in the 1997 lawsuit. "I knew her way too long to think she could make up stuff like that—it wasn't in her. She wasn't capable of making up the things she said in that thing."
© Copyright IBTimes 2023. All rights reserved.