When And Where To Watch The 'Halloweentown' Movies In October 2018
It's October, and that means it's officially time to watch the "Halloweentown" movies, the first of which celebrates its 20th anniversary on Wednesday. Luckily, the Disney Channel Original movies are available to watch online or on TV.
There is a way to watch the "Halloweentown" movies online that's both free and legal. Disney Now has the original 1998 movie, which follows Marnie (Kimberly J. Brown) and her siblings as they learn they are witches and help Aggie Cromwell (Debbie Reynolds) save her hometown, Halloweentown. The streaming service, which features commercial breaks, allows users to watch the first flick as well as the three following films: "Halloweentown II: Kalabar's Revenge," "Halloweentown High," "Return to Halloweentown." The streaming platform requires cable provider information to unlock certain content, but it looks like all four movies are being offered for free in October 2018.
For those traditionalists who want to watch the movies on Disney Channel, they'll have to wait until after the 20th anniversary. Disney Channel will have three nights of double features. On Tuesday, Oct. 23, the network will show "Halloweentown" at 6 p.m. EDT and "Halloweentown 2: Kalabar's Revenge" at 7:35 p.m. EDT. On Wednesday, Oct. 24, "Halloweentown High" will start at 6 p.m. EDT while "Return to Halloweentown" will play at 7:35 p.m. EDT. There will be another chance to catch the first two movies on Monday, Oct. 29 with the original set to air at 4:55 p.m. EDT and the sequel scheduled for 6:30 p.m. EDT.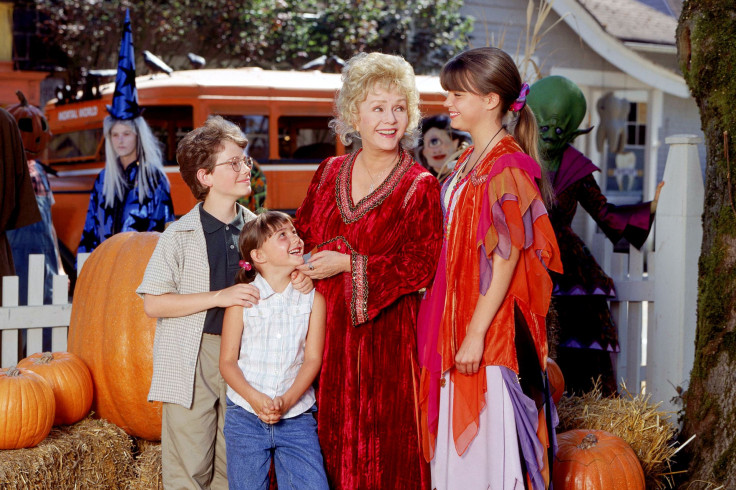 If you'd rather watch on your own time without ads, however, you'll need to handover some cash. The movies are available to rent on Amazon (which has the lowest price, starting at $0.99 for standard definition), YouTube, Google Play and iTunes.
Of course, if fans are watching the movies every year, it might be worth investing in the DVDs. The first two films are packaged as a double feature on Amazon for just $10 while "Return to Halloweentown" is just $4.99. "Halloweentown High" is available from third party sellers for under $10 as well.
While the fourth movie was released in 2007, the "Halloweentown" franchise still has a major following. Fans flock to the Disney Channel Original Movie's filming location, St. Helens, Oregon, and the town hosts an annual Spirit of Halloweentown festival each year during October, which often includes a cast reunion. On Sunday, the core cast of the original 1998 movie reunited. Kimberly J. Brown (Marnie), Joey Zimmerman (Dylan), Emily Roeske (Sophie), Judith Hoag (Gwen) and Robin Thomas (Kalabar) attended.
"My heart is so full after celebrating the 20th anniversary w/the whole #halloweentown cast at @spiritofhalloweentown this past weekend," Brown wrote on Instagram Monday. "We loved meeting everyone and lighting the pumpkin! Thank you to everyone who came from near and far. I'm so honored that the movie continues to live on with all of you fans. Thank you so much!"
© Copyright IBTimes 2023. All rights reserved.