When Will Giraffe Give Birth On Live Cam? April's 'Back End Is Huge, Tail Is Up'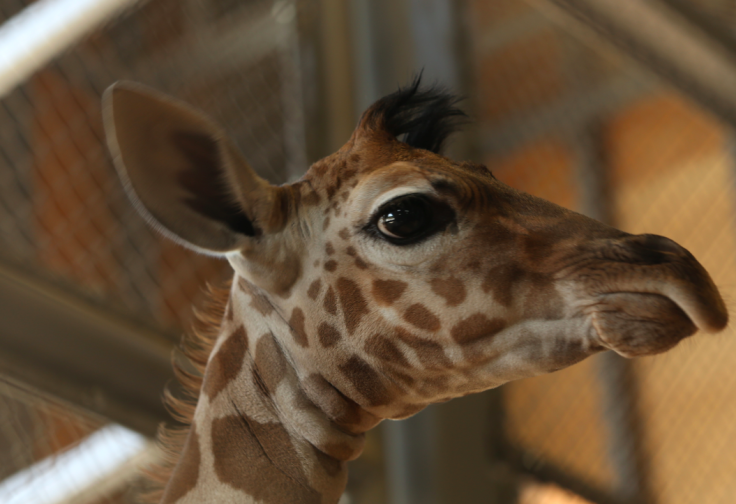 April the giraffe, who was slated to give birth on the live stream weeks ago, continues to keep millions of its fans waiting as it's labor gets delayed. In the evening update Wednesday, the Animal Adventure Park of upstate New York, said the giraffe is "bit moody" and its belly is now huge.
Over the last few days, people keeping a close watch at the giraffe's pregnancy witnessed a lot of belly movement as the calf continued its kicking activity throughout the day and even during the night. However, there are no signs of the animal going into "active labor" and the zoo said the keepers continue to wait.
"April continues to be herself — though a bit moody end of day but the vet reported a happy girl earlier this afternoon. As you can see from the cam, her back end is huge, tail is up, aaaannnddd we wait!" the update posted on the zoo's Facebook page, which is followed by more than 800,000 people said
Keepers believe April's mood change "is a good thing" while the animal's "back end continues to progress to our satisfaction."
Read: The Latest About Animal Giving Birth On Live Stream
Within an hour of the evening update going out on the Facebook page, the post was liked by more than 34,000 people and received more than 1,000 shares.
While the morning update Wednesday came with some fun fact about giraffes, the zoo announced in the evening update that it has partnered with Toys R Us for the live feed.
"We are so excited to announce some amazing partnerships! As you can see, Toys R Us, has joined forces and done some amazing this for conservation. Stay tuned tomorrow for potentially life changing news for wild giraffes!" the zoo wrote.
When the calf is born, he or she will weigh 150 pounds and stand at 6-feet tall. This is April's fourth calf and its first with mate Oliver, who is 5-years-old. After the calf is born, a vote will be conducted to name it.
Watch the live stream of April giving birth here.
© Copyright IBTimes 2023. All rights reserved.