Where To Celebrate St. Patrick's Day In New York City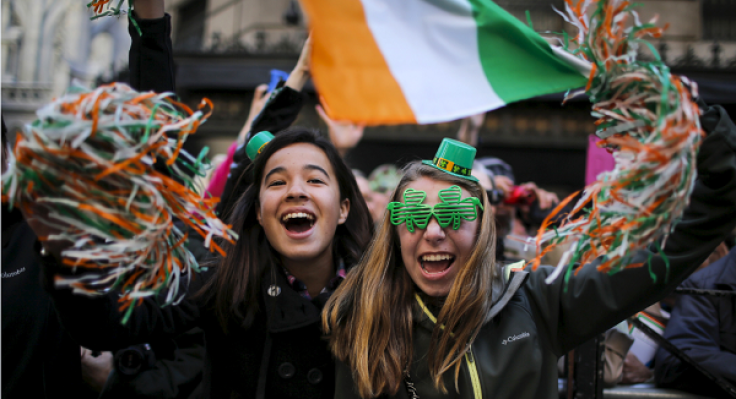 People in New York City won't have to catch many lucky charms just to participate in all the St. Patrick's Day action because plenty of bars and restaurants in the Big Apple are expected to host drink and food specials just in time for the Irish holiday.
The holiday, which marks the death of St. Patrick, brings thousands out to New York City for the annual St. Patrick's Day Parade, after which many people will most likely keep the celebration going at the nearest pub. A variety of establishments will be open throughout the day, offering the perfect accommodations for folks looking to satisfy their green beer cravings following the parade.
Find out where the green beer will flow on St. Patrick's Day in New York City by checking out the list below:
Village Pourhouse
If one day just isn't enough to celebrate the beloved St. Patrick, how about celebrating his life and legacy three days in a row? Village Pourhouse will run holiday deals Thursday through Saturday, offering drink specials including $4 drafts, $5 bottles and $6 well drinks and shots. The beer hall is also participating in a pub crawl with a few other neighborhood gems, in which drinkers will get St. Patrick's Day wristbands and a map of other participating establishments and even bigger discounts on food and drinks during the holiday weekend.
Location: 64 Third Ave.
SideBAR
During SideBAR's sixth annual Kegs N' Eggs party Friday and Saturday, visitors will not only get to indulge in green eggs and ham, green pancakes and green bagels in honor of St. Patrick's Day, but the restaurant and bar also is offering unlimited green Bud Light drafts to wash it all down. If green pancakes don't tickle your fancy, childhood classic Lucky Charms will be available to help soak up all the booze. The breakfast party will run 10 a.m.-1 p.m. on both days. Tickets can be purchased HERE.
Location: 118 East 15th St.
Mel's Burger Bar
St. Patrick's Day is known to be a boozy holiday, especially in New York City, which is why there's no better way to absorb all that alcohol than with a good, hearty burger. After dining on Black Angus beef burgers like the Cowboy, which is made with cheddar cheese, onion rings, barbeque sauce, chili and mushrooms on a potato bun, celebrants can get the party started all over again with Mel's Burger's $5 green beers, $6 Jameson shots, $6 Irish Breakfast shots and $8 Irish Cold Brew Coffees.
Location: 1450 Second Ave.
Professor Thom's
Even the luckiest Irishman can agree two-for-one Jameson shots are a sweet deal, and it's one in which all adults in NYC can partake if they spend St. Patrick's Day at Professor Thom's. Along with double flowing Jameson, the bar is also offering a $15 Irish Special that comes loaded with a pint of Guinness and a choice of corned beef and cabbage quesadillas, Irish tacos or lettuce wraps.
Location: 219 Second Ave.
The Upper East Side beer hall is offering patrons an actual taste of Ireland, with draft specials from Irish brewery, the Porterhouse Brewing Co. Along with offering tasty signature dishes like barbecue baby back ribs, smoked pork nachos and bacon lollies, Treadwell Park will also offer corned beef sandwich specials on St. Patrick's Day. Pinball, ping-pong and foosball tables will also be available for visitors play.
Location: 1125 First Ave.
© Copyright IBTimes 2023. All rights reserved.