Where Does Marco Rubio Stand On Immigration? Rand Paul Says Rubio Is 'Weakest' Of All Republican Candidates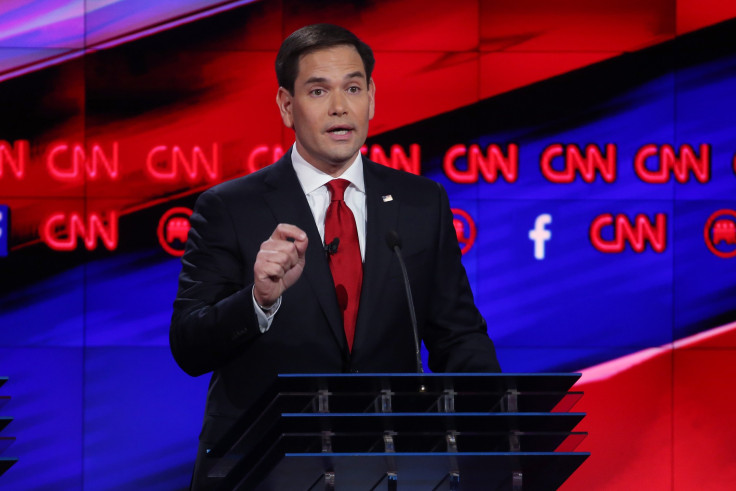 One of the biggest cheers during the first hour of Tuesday night's Republican presidential debate came when Kentucky Sen. Rand Paul criticized Florida Sen. Marco Rubio on his immigration record. Paul said Rubio "is the weakest of all the candidates on immigration" and compared him to Democratic Sen. Chuck Schumer of New York.
"Marco has more of an allegiance to Chuck Schumer and to liberals than to conservatives and policy," Paul said to loud cheers and applause.
Rubio, who is known for his foreign policy chops, has shone as a potential establishment pick for the party's 2016 nomination and was expected to do well in Tuesday's debate. The Florida senator's hawkish views are popular with many Republican voters, and he has been using the campaign's recent focus on national security to his advantage.
But immigration is an issue where Rubio has previously been more moderate than many of his opponents. In 2013, Rubio was one of the architects of an immigration reform bill that would have granted 11 million people in the United States illegally the opportunity to become citizens. Along with a group of senators known as the Gang of Eight, he tried to convince the Republican Party to go for his plan, but when conservatives balked and the bill died in Congress, he backed away from the positions.
Since launching his campaign for president, Rubio has taken a hard line on immigration, focusing on issues like border security and saying politicians who favor a sweeping reform bill are "delusional." Still, his reversal has some Republicans worried.
Marco Rubio Presidential Candidate Profile | InsideGov
Before Tuesday's debate, some on the right had begun to wonder why Rubio had not faced a question about his work with the Gang of Eight in any of the debates so far. When Paul brought up the topic during the Las Vegas debate, Rubio seemed unfazed, and quickly tried to move on to talk about other national security issues.
The fifth Republican debate was the first since the terror attacks in Paris and San Bernardino, California, which meant that issues of counterterrorism and immigration were on many Republicans' minds.
Amid the crowded Republican field, Rubio has typically managed to hold his own in spats with other candidates. Leading up to this debate, the Florida senator had worked to paint himself as tough on terrorism and knowledgeable about Middle East politics, particularly in comparison to Texas Sen. Ted Cruz, the other young rising star among the Republican candidates. Despite his smooth debate answers and his support from big donors, Rubio still sits at third place in national polls, so he was probably banking on another strong performance to sure up his position in voters' eyes before the end of the year.
© Copyright IBTimes 2023. All rights reserved.
FOLLOW MORE IBT NEWS ON THE BELOW CHANNELS