Who Are The PBS Democratic Debate Moderators? Gwen Ifill, Judy Woodruff To Oversee Wisconsin Debate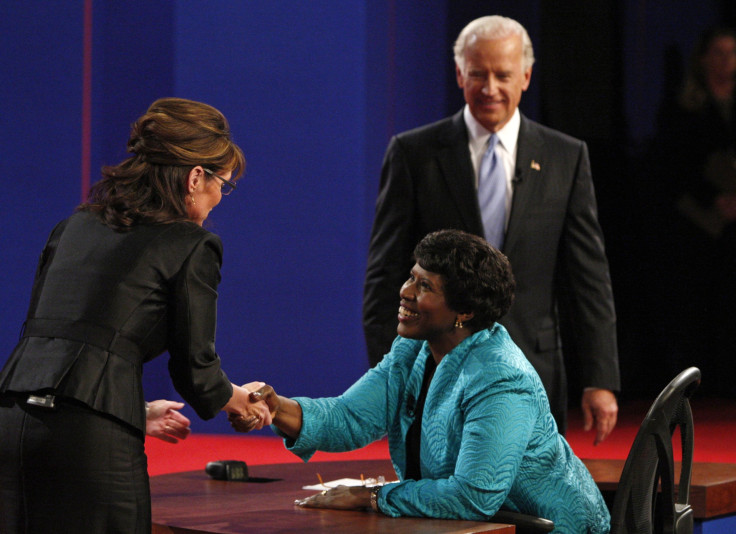 Vermont Sen. Bernie Sanders and former Secretary of State Hillary Clinton are scheduled to meet again on the debate stage Thursday evening during the sixth Democratic debate of this young election season. PBS "NewsHour" anchors Gwen Ifill and Judy Woodruff will make up the all-female moderating team at the debate being held at the University of Wisconsin, Milwaukee.
"Gwen Ifill and Judy Woodruff will bring the same high journalistic standards and integrity to this debate that they bring to the PBS NewsHour every day," said Sara Just, Executive Producer of "NewsHour" in a press release. "I'm looking forward to seeing the first all-female moderating team at a presidential debate."
While Ifill and Woodruff make up the first all-female primetime debate moderator team this election cycle, several women have moderated alone in the past, with Pauline Frederick of NPR being the first in 1976 followed by Barbara Walters in 1976 and 1984, Carole Simpson in 1992 and Candy Crowley taking the helm in 2012.
Both Ifill and Woodruff are seasoned reporters and anchors who have covered Washington politics for several decades. Ifill, 60, has moderated two vice presidential debates in the past with then Vice President Dick Cheney debating North Carolina Sen. John Edwards in 2004 and former Alaska Gov. Sarah Palin taking on Delaware Sen. Joe Biden in 2008. Ifill has covered seven presidential elections and is the author of the 2009 book "The Breakthrough: Politics and Race in the Age of Obama."
Woodruff, 69, moderated a vice presidential debate in 1988 with then Indiana Sen. Dan Quayle and Texas Sen. Lloyd Bentsen. She has covered politics for more than three decades, previously serving as NBC's White House correspondent from 1977 to 1982 as well as PBS's chief Washington correspondent from 1983 to 1993.
Ifill and Woodruff became the first all-female anchor team of PBS's "NewHour" program in 2013. Their appointment marked the first time a U.S. network had an all-female anchor team.
© Copyright IBTimes 2023. All rights reserved.