Who Are Tammie Jo Shults, Darren Ellisor? Southwest Pilots Called Heroes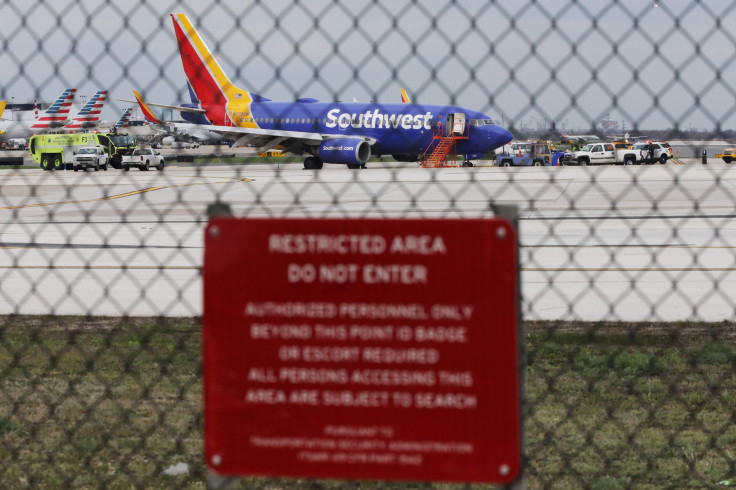 Tammie Jo Shults, the pilot of the Southwest Airlines flight that blew an engine on its way to Dallas, and made an emergency landing in Philadelphia, is being praised since the incident for her "nerves of steel" in helping prevent a far worse catastrophe after the tragic incident ended up killing one passenger and injuring seven others.
The news Shults was at the controls of Dallas-bound Flight 1380 was confirmed by her husband, Dean Shults.
According to a report in CBS News, Shults, a 1983 graduate of MidAmerica Nazarene University in Olathe, Kansas, where she earned degrees in biology and agribusiness, was among the first female fighter pilots in the U.S. military.
Shults served in the U.S. Navy for 10 years and flew fighter jets before she left active service in the year 1993 after becoming a lieutenant commander.
Speaking about her professionalism in making the emergency landing, a passenger named Alfred Tumlinson said: "She has nerves of steel. That lady, I applaud her. I'm going to send her a Christmas card — I'm going to tell you that — with a gift certificate for getting me on the ground. She was awesome. The lady, the crew, everything, everybody was immaculate. They were so professional in what they did to get us on the ground."
Gary Shults, her brother-in-law, said her husband Dean is also a Southwest pilot."She's a formidable woman, as sharp as a tack. My brother says she's the best pilot he knows. She's a very caring, giving person who takes care of lots of people," he added.
Her co-pilot on the flight from New York to Dallas was identified as Darren Ellisor, a U.S. Air Force veteran.
Both Ellisor's brother Lance and father Earl told Newsweek Ellisor was in the cockpit at the time of the accident.
His brother Lance paid a tribute to his pilot brother on Twitter that read: "I'd just like to point out that the hero pilot Tammie Jo Shults was assisted by her First Officer, and my brother, Darren Ellisor. I'm glad he's safe, and that almost all the lives were saved. I am sad for the woman who didn't make it."
The tragic accident claimed the life of a 43-year-old woman, Jennifer Riordan, from Albuquerque, New Mexico — a graduate of the University of New Mexico as well as a former NMBA Board member and NMBA Scholarship winner.
Riordan was a mother to two children and wife to Michael Riordan, the former COO of the City of Albuquerque.
Following her untimely death, Riordan's family issued a statement.
"Jennifer Riordan has passed away as a result of previously reported events on Southwest Airlines flight #1380. Jennifer's vibrancy, passion, and love infused our community and reached across our country. Her impact on everything and everyone she touched can never be fully measured. But foremost, she is the bedrock of our family. She and Mike wrote a love story unlike any other. Her beauty and love is evident through her children. We are so appreciative of the outpouring of support from family, friends and our community. We do ask that those who seek to express their condolences and prayers, as well as media outlets, respect our privacy at this time. Our family and friends need this time to both grieve and celebrate Jennifer's impact on us all. In her memory — please remember to always be kind, loving, caring, and sharing."
© Copyright IBTimes 2023. All rights reserved.