Who Is Ashli Babbitt? Capitol Attack Shooting Victim Was Air Force Veteran
KEY POINTS
Babbitt served in the Air Force and National Guard
She was an ardent support of President Trump
Police are investigating her fatal shooting inside the Capitol building in Washington D.C.
U.S. Capitol Police on Thursday said it confirmed Ashli Babbitt was the lone person who died as a direct result of unrest in Washington D.C. An Air Force veteran, the 35-year-old displayed a recent tendency to embrace right-wing ideologies.
The police force on Thursday recounted the events on the previous dead that left four people dead.
"As protesters were forcing their way toward the House Chamber where Members of Congress were sheltering in place, a sworn USCP employee discharged their service weapon, striking an adult female," the statement read. "Medical assistance was rendered immediately, and the female was transported to the hospital where she later succumbed to her injuries. She has been identified as Ashli Babbitt."
[WARNING: GRAPHIC CONTENT IN THE VIDEO BELOW]
Three other people died during the unrest on Wednesday due to undisclosed medical emergencies.
Still active, Babbitt's handle on Twitter, @Ashli_Babbitt, is filled with retweets of right-wing narratives. On Monday, Babbitt retweeted a comment from Juanita Broaddrick, a long-time critic of Democrats, that spoke in support of a so-called Stop The Steal rally planned in the nation's capital on Wednesday.
"It will be 1776 all over again .. only bigger and better," Broaddrick tweeted.
The date is a reference to the revolutions that eventually led to the founding of the United States of America.
Other messages retweeted from Babbitt reference "rebellion."
Babbit served in support of security at various Air Force bases during her career in the military. A profile from The New York Times finds she deployed seven times and secured the rank of senior airman, a top-level rank for enlisted personnel.
A California resident, San Diego broadcaster KUSI interviewed her husband, Aaron, who described her as a patriot and loyal Trump supporter.
Her ex-husband, Timothy McEntee, told The Washington Post that Babbit served in Afghanistan and Iraq and later deployed to Kuwait and Qatar as a member of the National Guard.
In a text to the newspaper, McEntee expressed shock over the incident.
"I feel absolutely terrible and sick to my stomach about it," he stated. "She was never afraid to speak her mind and in a way this was her way of speaking her mind (going to the rally)."
In one of her final messages posted on Twitter, posted Jan. 5, Babbitt expressed continued support from false right-wing claims the Nov. 3 election was fraudulent.
"Nothing will stop us....they can try and try and try but the storm is here and it is descending upon DC in less than 24 hours....dark to light!," she posted.
Capitol police said the unnamed employee alleged to have fired the fatal shot was placed on administrative leave and stripped of their authority pending the results of investigation in coordination the DC-area police.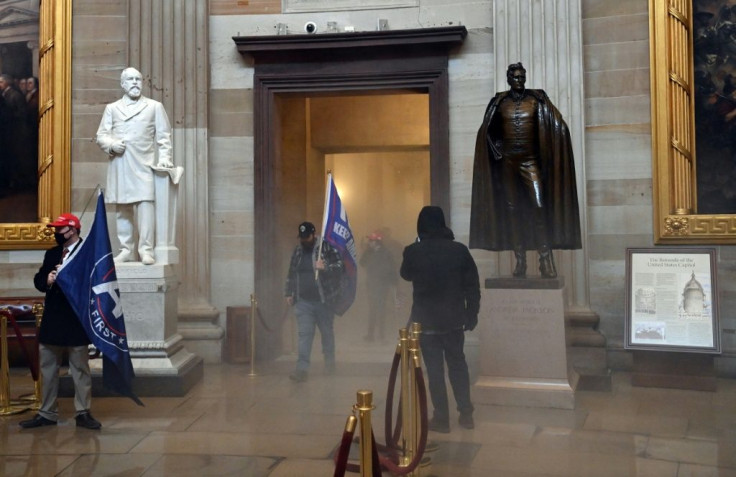 © Copyright IBTimes 2023. All rights reserved.