'Trump Should Be Impeached', Dems Say; Cabinet Members Consider Invoking 25th Amendment
KEY POINTS
Democrats ask Pence to invoke the 25th Amendment
Lawmakers accuse Trump of inciting the insurrection
Section 4 has never been invoked throughout US history
Update - Jan. 6, 9:50 p.m. EST: Several members of the president's Cabinet are in discussion about invoking the 25th Amendment in order to force Trump's removal from office, according to a Republican source. The discussion has reached Capitol Hill.
Whether there will be enough Cabinet members to result in Trump's removal, and whether Vice President Mike Pence will invoke the amendment, is still unclear.
Original Report:
Democratic lawmakers on Wednesday urged U.S. Vice President Mike Pence to invoke the 25th Amendment and remove President Donald Trump from office following a riot that led to breach of the Capitol complex hours earlier.
Under Section 4 of the 25th Amendment, the vice president would immediately become acting president after he and a majority of Cabinet secretaries find that the president is unable to fulfill his duties.
If invoked, Trump may still contest the finding and leave it to Congress to decide on the matter. The vice president would need a two-thirds vote of the House and Senate to become acting president. Section 4 has never been invoked during the history of the United States.
Several lawmakers, including Minnesota Rep. Ilhan Omar and Massachusetts Rep. Seth Moulton, accused Trump of inciting the rioters who stormed the U.S. Capitol building. A woman in the building was subsequently shot during the failed insurrection, and died shortly after.
"I am drawing up Articles of Impeachment. Donald J. Trump should be impeached by the House of Representatives & removed from office by the United States Senate," Omar wrote on Twitter. "We can't allow him to remain in office, it's a matter of preserving our Republic and we need to fulfill our oath."
While both could bring on a premature ending to Trump's controversial presidency, there is a difference between impeachment and utilizing the 25h Amendment, CNN noted.
By impeaching the president, even this late in his term, the Senate could then vote to disqualify Trump from holding federal office again. On the other hand, invoking the 25th would require that Vice President Mike Pence and a majority of Cabinet members vote to remove Trump because of his failure to "discharge the powers and duties of his office."
"Trump is directly responsible for this insurrection and violence. He needs to be removed from office immediately. It is the Constitutional responsibility of Vice President Pence and the cabinet to exercise the power granted them by the 25th amendment," Moulton wrote.
The protest came after Trump spoke to supporters on the Ellipse behind the White House, where he claimed, as he has done many times despite lacking any proof, that he won the election by "a landslide" and called on Pence to reject President-elect Joe Biden's win.
"Mike Pence, I hope you're gonna stand up for the good of our Constitution and for the good of our country," Trump said.
The president later said he would continue refusing to concede and encouraged his supporters to march to the U.S. Capitol, saying he would walk with them.
"We're going to walk down Pennsylvania Ave ... and we're going to [try] to give our Republicans -- the weak ones because the strong ones don't need any of our help -- we're to try and get them kind of pride and boldness they need to take back our country," he added.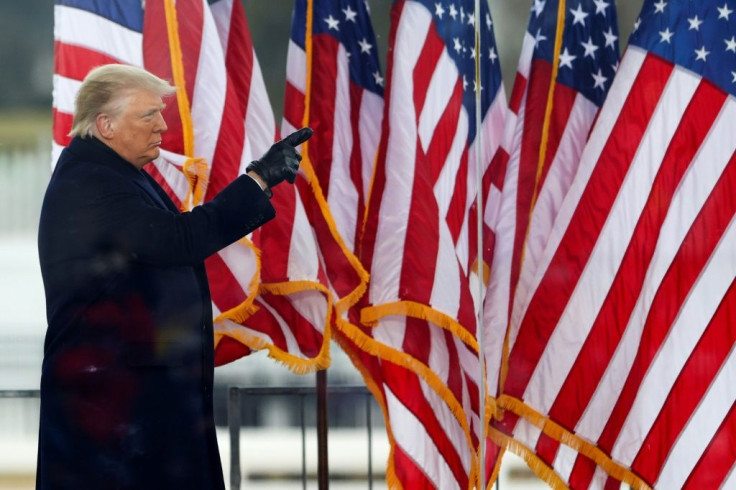 © Copyright IBTimes 2023. All rights reserved.
FOLLOW MORE IBT NEWS ON THE BELOW CHANNELS