VIDEO: Trump Supporters Storm Capitol Building, Clash With Police
KEY POINTS
Thousands of Donald Trump supporters gathered in the U.S. capital Wednesday for a "Stop The Steal" rally
Trump himself was in attendance, attacking the media and claiming the Georgia Senate runoffs were rigged
Demonstrators clashed with police the night, and storming the Capitol Building and trying to gain entry to the Congressional chambers proper
This article has been updated after reports in real-time.
Protests near Capitol Hill descended into chaos Wednesday while representatives and senators began to certify the electoral-college vote for President-elect Joe Biden.
In an alarming standoff, Capitol Police had guns drawn as pro-Trump supporters stormed the Capitol Building. Capitol Police seemed to be undermanned in violent struggles against the Trump supporters who moved into the building.
Protestors were seen tearing down fencing and clashing with police as they stormed the steps of the Capitol Building.
Two buildings were evacuated near the Capitol due to "police activity."
Washington Mayor Muriel Bowser declared a curfew beginning at 6 p.m. ET.
Video captured Trump supporters marching through the halls of the Capitol Building. There appeared to be multiple entry points with pro-Trump supporters spreading through the building.
Security in the Capitol told people to shelter in place and make sure doors were locked.
"I am hearing all of these sort of explosions right outside my window and all this commotion and sirens," Rep. Brendan Boyle, D-Penn., told MSNBC.
Congress went into recess as the Capitol Building was on lockdown. Vice President Mike Pence was ushered out of the chamber and left the building through means other than the surrounded doors.
There had long been plans for Trump supporters to gather in Washington for a "Stop The Steal" rally. Supporters have attended the rallies under the premise that the 2020 presidential election was "rigged."
Demonstrators on Wednesday morning converged on Washington to hear Trump speak after his unfounded accusations of election fraud and as some Republican senators waged objections to the election results.
There had been previous Stop the Steal demonstrations that resulted in violent clashes with counter-protesters. Ahead of the rally, Bowser had called for 340 members of the National Guard to be available.
No details were released about the size of Wednesday's crowd, but permits submitted with the National Parks Service predicted 30,000 people would attend.
It was unclear if Wednesday's weather conditions might deter a strong turnout. There was some light rain, but the weather had cleared by the time Trump arrived to make his speech. It's expected to remain mild through the rest of Wednesday.
Trump's speech Wednesday touched on many of his most common refrains since the election. He falsely claimed that he won in a landslide and complaining that the media was understating the crowd size of his "hundreds of thousands" of supporters.
Trump's speech seemed to encourage his supporters to take action.
"We are going to have to fight much harder and Mike Pence is going to have to come through for us, and if he doesn't, that will be a sad day for our country. Because you're sworn to uphold our Constitution," Trump said in the speech.
Trump added the election was an "egregious assault on our democracy." He also said his supporters should "walk down to the Capitol."
"We are going to cheer on our brave senators and congressmen and women and we are probably not going to be cheering so much for some of them — because you will never take back our country with weakness," Trump said.
(Trump's speech can be watched at the end of the video below.)
Tuesday night Trump's supporters clashed with police. "Heads are going to roll!" one man shouted after the clash.
(The video below contains profanity.)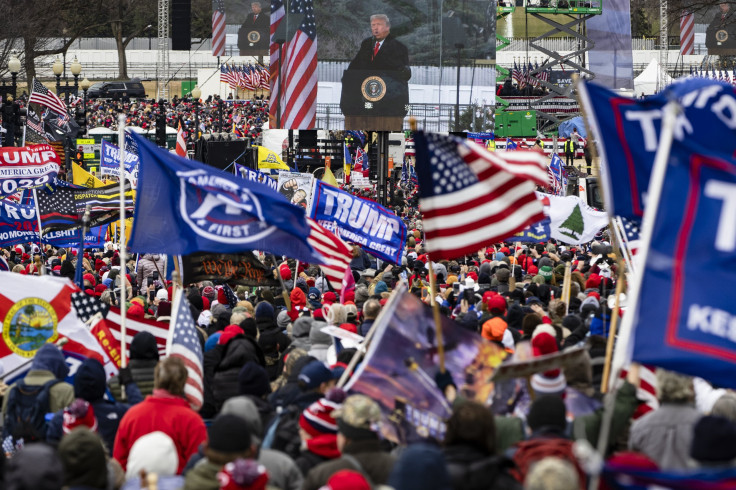 © Copyright IBTimes 2022. All rights reserved.
FOLLOW MORE IBT NEWS ON THE BELOW CHANNELS