Who Is Chuck Grassley? US Senator To Block Hearing On Supreme Court Nominee Merrick Garland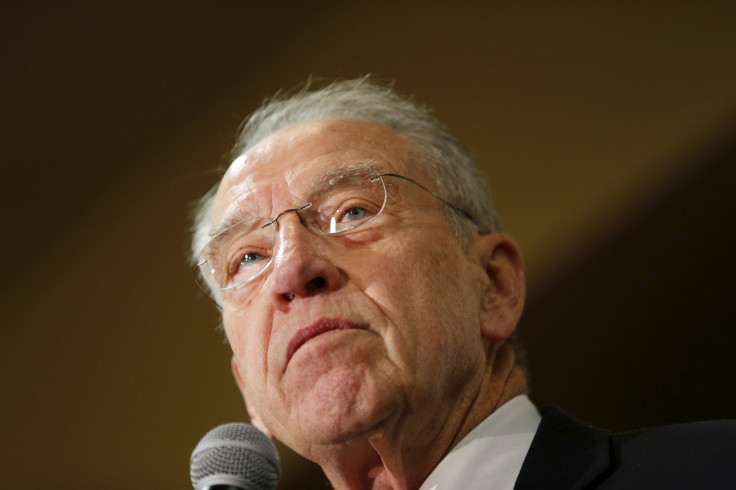 U.S. Senate Judiciary Committee Chairman Chuck Grassley, R-Iowa, responded Wednesday to President Barack Obama's plan to nominate appellate court Judge Merrick Garland to the Supreme Court by reiterating that he would not conduct hearings on any nominee to succeed the late Justice Antonin Scalia during this presidential-election year.
Even before the White House's announcement about the Garland nomination Wednesday, the Iowa senator had vowed to not consider whoever Obama would nominate to the Supreme Court. He has repeatedly pointed to comments made by Vice President Joe Biden in 1992 when he urged his then-colleagues on the Senate Judiciary Committee to not hold hearings on a nominee in the "cauldron in the middle of a presidential year." And Grassley again reminded Americans of Biden's remarks at a press conference Wednesday.
"What we're going to be doing over the next months in the United States Senate — this is not about a person or Judge Garland or anybody else. This is about a principle of letting people have a voice," Grassley said. "So we are going to follow the principles that were laid down [by] Sen. Biden when he was chairman of the committee, laid down by Sen. [Harry] Reid in a more recent statement in 2005, laid down by Sen. [Chuck] Schumer in 2007. "These were all instances of a possibility of a new president being elected and so they took the stand."
It does not appear that Grassley publicly voiced this position during other election years, but in the decades he has been in Washington, only one vacancy has coincided with an election year, the one leading to the confirmation of Justice Anthony Kennedy in February 1988. Grassley has served in Congress since 1975, first in the House of Representatives and then in the Senate, where he took office in 1981. Grassley became chairman of the Senate Judiciary Committee in 2015.
"A lifetime appointment that could dramatically impact individual freedoms and change the direction of the court for at least a generation is too important to get bogged down in politics," Grassley said in a statement released Wednesday. "The American people shouldn't be denied a voice. Do we want a court that interprets the law, or do we want a court that acts as an unelected super legislature? This year is a tremendous opportunity for our country to have a sincere and honest debate about the role of the Supreme Court in our constitutional system of government."
Almost two decades ago, Grassley voted against Garland in a 1997 confirmation vote that led to the nominee's service on the U.S. Court of Appeals for the District of Columbia Circuit. "I ask my colleagues to vote no on the current nomination and to strike a blow for fiscal responsibility," Grassley said on the Senate floor in March 1997. "Spending $18 million on an unnecessary judge is wrong and I say that as my previous colleagues have said it and we all mean it. We have nothing against this nominee Mr. Garland. He is well qualified and would make a good judge in another court where a seat needs to be filled."
© Copyright IBTimes 2023. All rights reserved.
FOLLOW MORE IBT NEWS ON THE BELOW CHANNELS