Who Is Merrick Garland? What Supreme Court Nominee Has Said About Gun Control, Abortion, Crime And Gitmo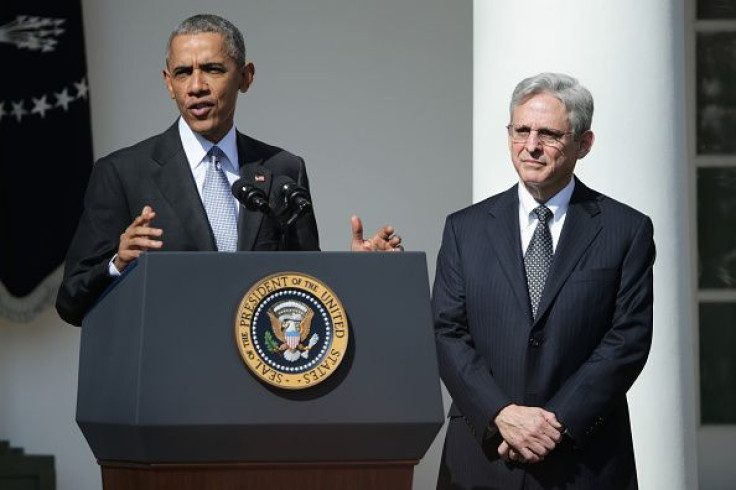 President Barack Obama announced Merrick Garland, 63, as his nominee to the Supreme Court Wednesday to fill the spot vacated by Justice Antonin Scalia's death. Garland checks off many of the typical roles held by strong nominees to the Supreme Court: a graduate of Harvard Law School, a clerk for Supreme Court Justice William J. Brennan Jr., an attorney for the Justice Department and currently a chief judge on the Washington, D.C., federal appeals court.
Obama described Garland as "one of America's sharpest legal minds" and stressed the judge was appointed to the D.C. Circuit Court with bipartisan support. While at the Justice Department, Garland oversaw the prosecution of the 1995 Oklahoma City bombing, which resulted in the deaths of 168 people. Garland was appointed to the D.C. Circuit in 1997 under Bill Clinton's presidency with a 76-23 vote.
"He has shown a rare ability to bring together odd couples," Obama said, noting that Republicans had offered their support for Garland in the past.
Speaking after Obama, Garland teared up while accepting the nomination and said "fidelity to the law has been the cornerstone of my life."
"It's the greatest gift I've ever received," Garland said, adding a caveat that marrying his wife and having his two daughters were on par. He spoke of the anti-Semitism his family escaped from Russia and the sense of responsibility instilled by his parents.
Garland, a Chicago native, faces an uphill confirmation battle. Republicans have promised to mount a full-force media campaign against anyone Obama nominated to the Supreme Court, in an effort to derail the process in hopes that the next president will be the one to appoint a justice to the highest court.
Having spent the majority of his career in public service, Garland's record will be closely scrutinized, including where he stands on key controversial political issues such as abortion. Garland, who was previously a finalist for the two other Supreme Court spots filled during Obama's time in office, is known for his neutral judgments that tend to shy away from bombastic language, the SCOTUS blog reported in 2010. He has been described as a "centrist" and "moderate" in the past, with fans describing him as "consensus-builder."
His position on the Washington court that deals primarily with regulatory issues means Garland has not been involved in deciding cases involving divisive political issues such as abortion. It is unclear where Garland stands on the issue.
He has drawn criticism in the past from some liberal leaders for his decision as a judge to defer to President George W. Bush's stance on indefinite detentions in Guantanamo Bay. In 2003, Garland was part of a three-judge panel that dismissed claims from detained Kuwaitis that they were being held with a lack of evidence. His stance was again seen in 2008 when he refused to hear a claim from detainees wanting to see the government's evidence against them.
On the issue of guns, Garland was in favor in 2007 of reviewing a case invalidating Washington's handgun ban. Garland has not formally taken a stance on gun control issues, but the conservative Judicial Crisis Network has already said it will spend $2 million to oppose Garland, whom they describe as having a "very liberal view of gun rights."
When it comes to criminal law, Scotus Blog describes Garland as rarely voting in "favor of criminal defendants' appeals of their convictions." Garland did not author the opinion in any of the cases cited by the Supreme Court-focused blog. But Garland has voted in several cases to allow sentences reversals so defendants could raise arguments. He has also disagreed with more liberal colleagues on issues of criminal law.
While Garland's rulings on prisoner detention often sided with the government, the judge has also ruled against the government. As part of a three-judge panel in 2013, Garland ruled against the Central Intelligence Agency when it wished to keep documents regarding armed drones classified.
The Human Rights Campaign, an LGBT civil rights advocacy group, described Garland as a "highly qualified candidate" Wednesday and urged Republicans to give the nominee "swift and fair consideration."
If confirmed, Garland will be the oldest justice to join the Supreme Court since Lewis Powell in 1972. Powell was 64 at the time.
© Copyright IBTimes 2023. All rights reserved.
FOLLOW MORE IBT NEWS ON THE BELOW CHANNELS