Who Is Dori Myers? Teacher Allegedly Performed Oral Sex On Teenage Student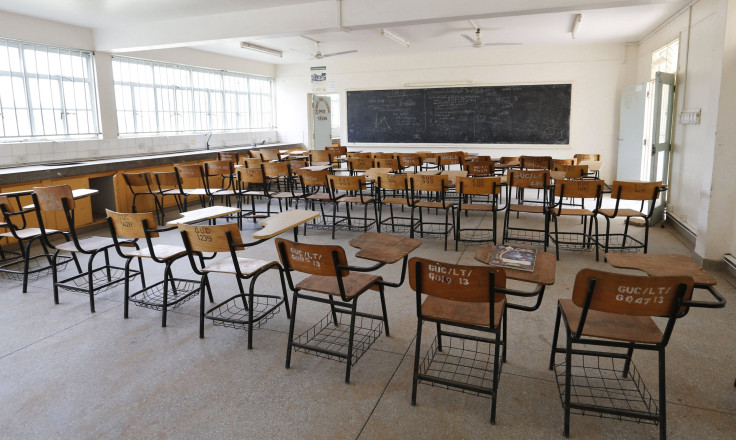 A New York high school teacher has been accused of performing oral sex on her 14-year-old student, prosecutors said Saturday. Dori Myers, who taught social studies at The New School for Leadership and the Arts in the Bronx, was charged with criminal sexual act in the second degree and endangering the welfare of a child.
The 29-year-old was initially set at $50,000 bail by the prosecutors, saying she "abused her position as a trusted authority figure." Judge Laura Drager later released the teacher on her own recognizance, reports said.
Myers pleaded not guilty to the criminal charge. The judge issued a 30-day order of protection, according to which Myers must stay away from the victim.
The incident came to light after the boy, believed to be Myers' student, discussed the abuse with a classmate, who later notified a school administrator, police said. According to a criminal complaint, the alleged assault took place in Upper Manhattan on Nov. 1.
The Department of Education called the allegations "deeply troubling." Myers, who has no prior disciplinary history, was immediately reassigned "away from students."
The Sun reported that in 2015 Myers had posted on Twitter that students commented on her looks, claiming one had told her: "Ms. You're like, real pretty, but, no offence, you got a big forehead."
Myers' lawyer, Andrew Stoll, said the teacher had started a track team at the Bronx school, where she had worked since 2014.
"It just takes one person's accusation to make an arrest in this town and she's a model citizen who looks forward to clearing her name," Stoll told the New York Post. "It sounds like no good deed goes unpunished. You reach out to make yourself available to kids, and the next thing you know, a single accusation can destroy your career."
According to reports, Myers, who started teaching at the school in 2014, lives in Garnerville in Rockland County with her husband, who works in law enforcement.
Myers has been not been shy about her alcohol consumption and partying on her social media account, reports said. In now-deleted photos, the young teacher was seen wearing a dark blue, low cut tank top that read "Champagne All Day, " while holding a bottle in one hand and a glass of bubbly in the other.
In another now-deleted image, Myers was seen wearing a white top with the bawdy phrase: "Whiskey Makes Me Frisky."
In the last few months, there have been several similar allegations on female teachers, some of whom were accused of having sex or inappropriate relationships with a high school student or an underage boy.
In December, a 34-year-old English teacher in Oklahoma was accused of taking out a marriage license with a 16-year-old teenage boy.
Court records "show a Cassandra Renae White, 34, and a 16-year-old boy, filed for a marriage license in Cleveland County on December 13, which was signed off by the teen's father. A 16-year-old can be married with parental consent," Oklahoma News 4 television station reported at the time.
In November, an Oklahoma teacher was accused of sending nude photos to a student. Hunter Day, a 22-year-old science teacher at Yukon High School, was placed in the Canadian County Jail on multiple charges, including second-degree rape, with a bond set for $85,000.
© Copyright IBTimes 2023. All rights reserved.