Trump Cabinet Update: Who Will Be Director Of National Intelligence? Rudy Giuliani, Mike Rogers Reported Under Consideration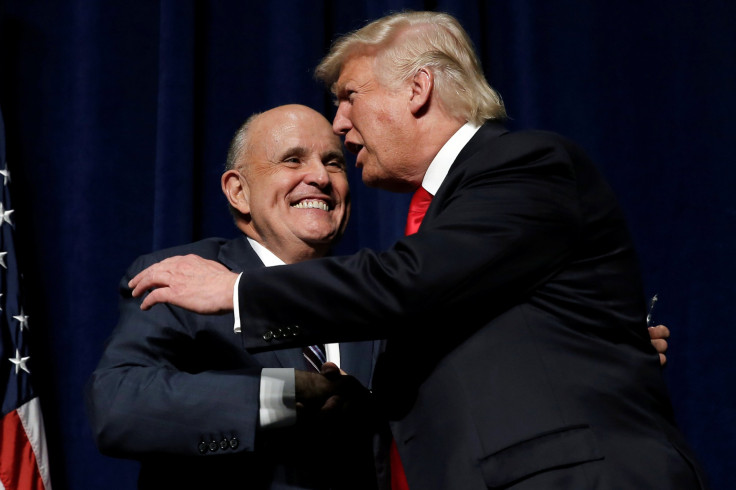 Former New York Mayor Rudy Giuliani, an early and vociferous supporter of President-elect Donald Trump, reportedly was under consideration Monday as the director of national intelligence.
National Security Agency Director Adm. Mike Rogers, a career intelligence officer, also has been named as a possible candidate for the job.
Giuliani's name has come up as a candidate for a number of Cabinet posts, including attorney general and secretary of state. Trump last week named Sen. Jeff Sessions, R-Ala., as his choice to head the Justice Department, and 2012 Republican presidential nominee Mitt Romney has emerged as a candidate to head the State Department.
Giuliani, who was mayor of New York when the World Trade Center towers were taken down by terrorists Sept. 11, 2001, would seem a natural fit for the intelligence post. His consulting firm, Giuliani Partners, deals with cybersecurity issues, and he is the head of cybersecurity and crisis management at the Greenberg Traurig law firm.
James Clapper, the current director of national intelligence, said last week he had submitted his resignation and would serve only until Trump's inauguration Jan. 20.
Trump already has tabbed retired Army Lt. Gen. Michael Flynn, who also had been mentioned as a possible candidate for director of national intelligence, to be his national security adviser.
Rogers has run afoul of Defense Secretary Ash Carter and Clapper over his handling of the fight against the Islamic State group and the loss of classified information within the agency, CBS News reported. He had been expected to be ousted from his job.
Rogers revealed recently the Russian hacking of the Democratic National Committee's emails was done deliberately "to attempt to achieve a specific effect."
Giuliani has branded himself as a successful crime-fighter and has shopped his reputation across Latin America, offering advice on reducing crime and revamping justice systems, the Washington Post reported. Giuliani has advised foreign governments on cybersecurity issues, including Saudi Arabia and Qatar, and earlier this month told Fox News he would "love to become the person that comes up with a solution to cybersecurity."
Richard Painter, chief ethics lawyer for former President George W. Bush, told the Post Giuliani would have to set aside his financial dealings with foreign governments if he returned to public service.
The Post said there has been no public accounting of Giuliani's client list. Giuliani Safety & Security, a subsidiary of Giuliani Partners, boasts on its website of clients on six continents, a fact that could complicate confirmation hearings for secretary of state.
"I think it is worrisome, some of the ties to foreign governments," Sen. Rand Paul, R-Ky., told CNN.
© Copyright IBTimes 2023. All rights reserved.
FOLLOW MORE IBT NEWS ON THE BELOW CHANNELS