Who Is Eric Frein? Pennsylvania State Trooper Killer Sentenced To Death By Jury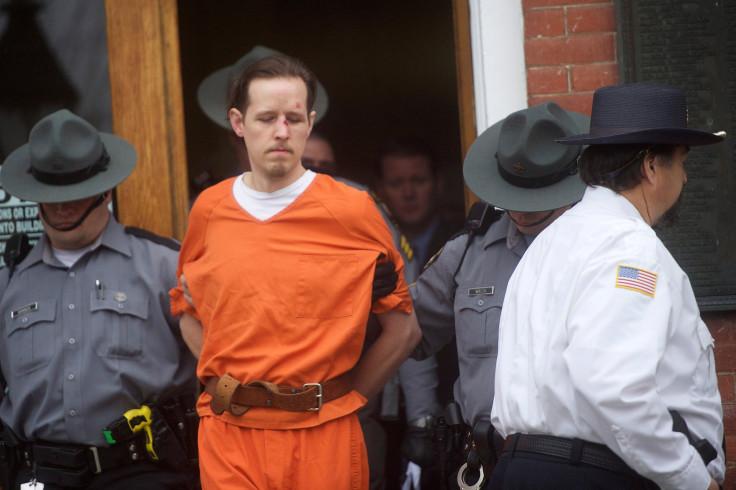 Jury sentenced Eric Frein to death Wednesday in Pennsylvania for shooting two Pennsylvanian troopers at their barracks in a late-night ambush in 2014, killing one of them and leaving the other wounded.
Frein, 33, killed state Cpl. Bryon Dickson and left another trooper with injuries on Sept. 12, 2014. He was charged with murder of a law enforcement official and terrorism and was sentenced to death by lethal injection by the Pike County jury in Pennsylvania.
"Jurors have delivered full justice in this case and issued the penalty that is so richly deserved by Eric Frein," said District Attorney Ray Tonkin.
"This verdict is for each and every member of law enforcement who dons a uniform and goes out to protect us each and every day," he said.
During Frein's trial, prosecutors said he killed Dickson in order to start a "revolution" against the U.S. government.
Frein was on the loose for almost 48 days after committing the crime. He was captured after a massive manhunt in Poconos, Pennsylvania. The police found him hiding in an abandoned plane hangar.
One of Frein's attorneys William Ruzzo said he has been planning to appeal. "I'm surprised by it," he told reporters after the verdict. "But they're the jury ... we work within the system, and they made their decision."
While the death sentence was being read, Frein showed no emotion. His mother, Debbie, was the only family member present in the courtroom as the verdict was being read and she also had no reaction to the decision.
Pennsylvania State Police Commissioner Col. Tyree C. Blocker thanked the community for their support to Cpl. Dickson and his family.
"Cpl. Dickson will always remain in the hearts of all members of the Pennsylvania state police forever," Commissioner Blocker said to reporters outside the courthouse following the verdict along with former Commissioner Frank Noonan, who had been leading the state police at the time of the manhunt.
Frein's sentence hearing has been scheduled to be held Thursday afternoon before Judge Gregory H. Chelak.
© Copyright IBTimes 2023. All rights reserved.