Who Is Eric Hartley? Jarrod Ramos Held Grudge Against Ex-Capital Gazette Reporter
An armed suspect, identified as Jarrod Ramos, open-fired inside the Capital Gazette newsroom in Annapolis, Maryland, killing five journalists. It was later uncovered that he bore a longtime grudge against the newspaper ever since they ran a news report against him in 2012.
"He had some type of conflict with the paper in general," said Lt. Ryan Frashure, an Anne Arundel County Police spokesman, CBS affiliate WFMY News 2 reported.
Frashure's sentiments were echoed by Anne Arundel County Deputy Police Chief William Krampf. "This was a targeted attack on the Capital Gazette," he said. "This person was prepared to shoot people. His intent was to cause harm."
Ramos, 38, had pleaded guilty in Anne Arundel County on a charge of criminal harassment back on July 26, 2011, and got a 90-day suspended sentence. This was following an instance where he was accused of continually harassing a woman on the internet.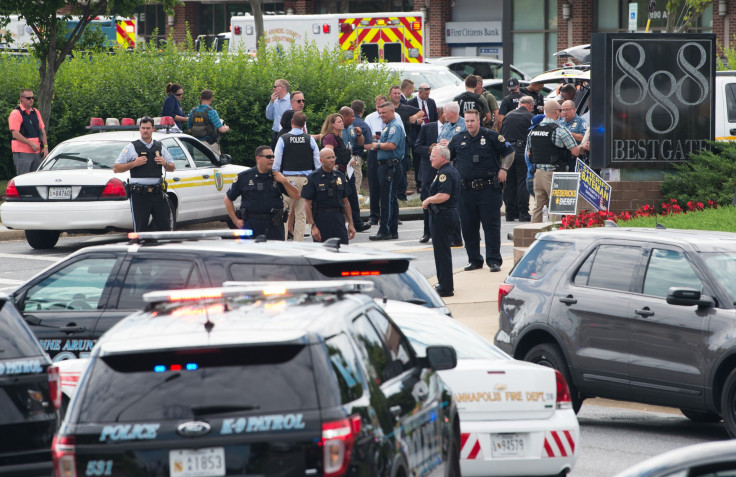 A few days later, former Capital Gazette reporter Eric Thomas Hartley ran an article on Ramos, making him an example to warn people of the dangers that internet holds.
"If you're on Facebook, you've probably gotten a friend request or message from an old high school classmate you didn't quite remember," Hartley wrote in the story. "For one woman, that experience turned into a yearlong nightmare."
He also exposed real-life details about Ramos' case in the article, talking about how Ramos had got in touch "out of the blue" with the woman who sued him for harassment and began stalking her on social media, starting with the pretext of thanking her for being nice to him in high school.
"That sparked months of emails in which Ramos alternately asked for help, called her vulgar names and told her to kill herself," the story mentioned. "He emailed her company and tried to get her fired."
In conclusion, Hartley wrote: "The case is extreme. But it provides a frightening look at the false intimacy the Internet can offer and the venom that can hide behind a computer screen."
In 2012, Ramos filed a defamation suit against the newspaper for running the article. The suit was first dismissed by Prince George's Circuit Court Judge Maureen M. Lamasney in 2013. At the time, the court claimed that Hartley's piece was "based on public records and Ramos presented no evidence it was inaccurate."
In 2015, Capital Gazette reported that Maryland's second highest court had upheld a ruling in their favor against Ramos, Heavy reported.
However, that did not stop Ramos from personally going against Hartley. He changed his Twitter handle to "@EricHartleyFrnd." Apart from that, he regularly attacked the journalist on his Twitter profile.
On October 2012, Ramos wrote: "Eric Hartley admitted he is not a 'good reporter.' He is bad. Sometimes the best defense is to send an opposing offense to Journalist Hell."
In February 2015, Ramos posted this photo on his social media page, comparing Hartley to "Star Wars" villain Jabba the Hutt. In the same month, the suspect wrote Hartley was a "veteran bad journalist and proudly irresponsible, like @Charlie_Hebdo."
When Hartley eventually left his job at the Capital Gazette to work for OC Weekly in California, Ramos mockingly threatened his life. "Yes, Eric Thomas Hartley, you moved to… oh just go ahead and kill yourself already before I do (legally in court)."
Meanwhile, Hartley won a courage in journalism award in 2015 for his coverage of billionaire casino owner Sheldon Adelson for the Las Vegas Review-Journal.
Hartley is currently working for Virginian Pilot in Norfolk. The newspaper has a section called "Why I am a Journalist" on its website, where Hartley wrote: "If you've ever spent time around kids, you know how annoying it can be when they won't stop asking, 'But why?' That question is a big part of my job, and it suits my personality: curious, skeptical of authority, perhaps a little annoying. A functioning society needs people to ask why – and to tell you the answers we find."
Apart from attacking Hartley, Ramos also targeted Capital Gazette in general, running a website from 2012 to 2014 where he published e-mail messages with Gazette staff accusing them of harassment.
© Copyright IBTimes 2023. All rights reserved.
FOLLOW MORE IBT NEWS ON THE BELOW CHANNELS