Who Is Heather Wilson? Former Republican Congresswoman Named Trump's Air Force Secretary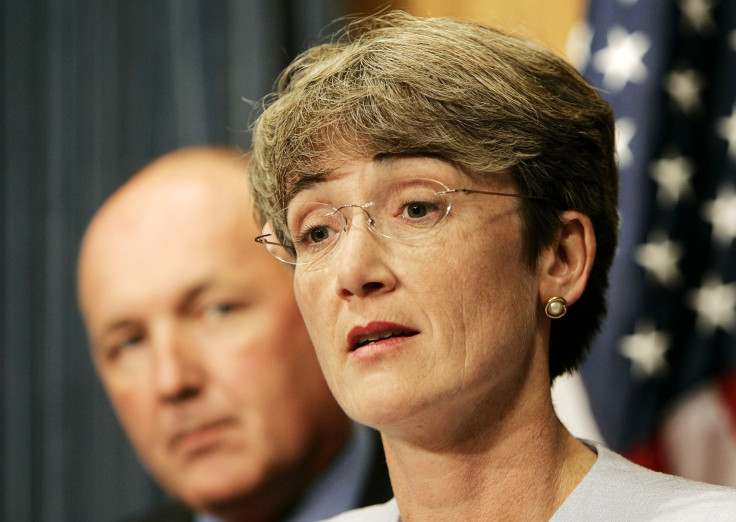 Heather Wilson's nomination to be Air Force secretary was approved by the Senate Monday, making the former Republican member of the House of Representatives the second of President Donald Trump's nominees to be approved for a Pentagon post.
This also makes Wilson the president's first service secretary nominee to be approved by the GOP-led chamber.
Senators voted 76-22 for Wilson, of which all the 22 "no" votes came from Democrats opposing the former Republican congresswoman from New Mexico.
"I'm sure she'll work hard in this new role to strengthen the branch of the military that she cares so much about," Senate Majority Leader Mitch McConnell said.
Wilson's selection was an unusual victory for the Trump administration which has been trying to fill senior Pentagon vacancies since the president took office.
Even after the completion of Trump's 100 days in office, dozens of national security positions remain unfilled, with some still occupied by former President Barack Obama's holdovers or civil servants on an acting basis.
Read: Senate Approves Tom Price As Trump's Health Secretary
Wilson graduated from the U.S. Air Force Academy in 1982. She earned masters and doctoral degrees as a Rhodes Scholar at Oxford University in England. She was a former member of Congress and represented New Mexico from 1998 to 2009. During her tenure in the House she was also a member of the Armed Services Committee. She has been the president of South Dakota School of Mines and Technology since 2013.
During the 1980s, Wilson served as an Air Force officer in Europe and was serving among the National Security Council staff under President George H.W. Bush during the fall of the Berlin Wall.
Wilson had previously mentioned once confirmed, she would resign from her post as president of the South Dakota School of Mines & Technology. She had also promised the Defense Department's general counsel, to divest the stocks she held in companies that work with the U.S. military, including Intel and IBM.
There had been a considerable amount of debate before Wilson was finally confirmed. After she served five terms in Congress, she had collected about half a million dollars in controversial payments from nuclear labs that were said to be federally funded, according to the Energy Department's inspector general, who said this in a 2013 report.
The report also mentioned the former Congresswoman failed to provide proper documents for the consulting work she did and earned $20,000 a month from the Los Alamos and Sandia national labs in New Mexico from January 2009 to March 2011, according to Washington Examiner.
Read: Senate Approves Donald Trump's Choice Neil Gorsuch As Supreme Court Judge
However, Wilson dismissed questions about these payments during her senate confirmation hearing and said she had completed the work and the inspector general had found no questionable dealings with her work.
During her senate confirmation hearing, the former Republican member of the House said she would like to do something about the Air Force's pilot shortage and will likely ask for additional funding for the service's efforts to modernize itself.
Sen. John McCain of Arizona, the Republican chairman of the Armed Services Committee, called Wilson a "proven leader" and said he expects her to lead the Air Force service to a spirited and powerful future, according to the Associated Press.
© Copyright IBTimes 2023. All rights reserved.