Neil Gorsuch Confirmation: Senate Approves Donald Trump's Choice After Republicans Deploy 'Nuclear Option'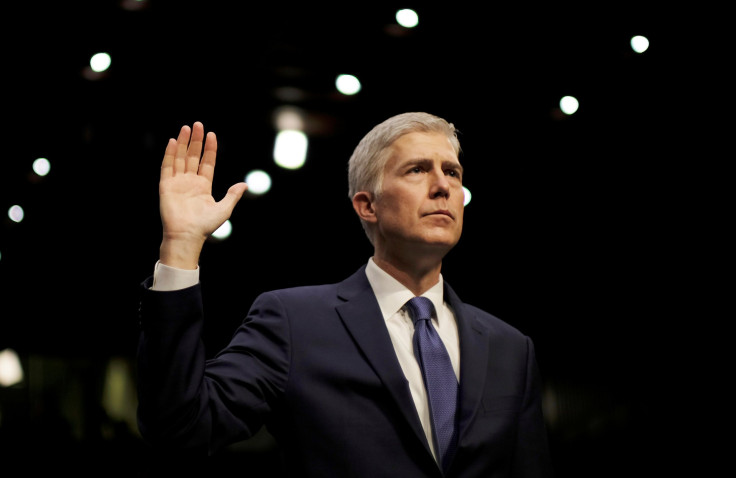 The Republican-led Senate Friday morning confirmed the nomination of federal judge Neil Gorsuch to become the 113th justice of the Supreme Court after a historic change to the congressional body's rules.
This was a major win for President Donald Trump as he promised the Republicans last year during his campaign that he would appoint a committed conservative to the post after Justice Antonin Scalia died on Feb. 13, 2016.
Gorsuch will be officially sworn in Monday. He will fill the seat that has been vacant since Scalia died and the court had refused to accept former President Barack Obama's nominee, Judge Merrick Garland.
The Senate voted 54-45 to approve Trump's nomination for the post and three Democrats —Sen. Joe Manchin, Sen. Heidi Heitkamp and Sen. Joe Donnelly backed the nomination.
"As a deep believer in the rule of law, Judge Gorsuch will serve the American people with distinction as he continues to faithfully and vigorously defend our Constitution," the president told the New York Times.
"Judge Gorsuch's confirmation process was one of the most transparent and accessible in history, and his judicial temperament, exceptional intellect, unparalleled integrity and record of independence makes him the perfect choice to serve on the nation's highest court," Trump said, Reuters reported.
During the confirmation, Senate Majority Leader Mitch McConnell said: "He's going to make an incredible addition to the court."
Gorsuch's nomination was confirmed after the Republicans voted to trigger the "nuclear option," which changed the rules of the Senate. If they would not have employed this option then Gorsuch would have needed 60 votes to confirm his nomination.
"The nuclear option is a parliamentary procedure that allows the U.S. Senate to override a rule or precedent by a simple majority of 51 votes, instead of by a super majority of 60 votes," according to the rules followed by the Senate.
When a majority of Democrats voted to block Gorsuch's confirmation, the Republicans began the procedure to apply the nuclear option Thursday. McConnell announced: "This will be the first and last partisan filibuster of a supreme court nominee."
After Gorsuch is sworn in Monday, he will be expected to prepare for the court's next round of oral arguments, which is scheduled to start on April 17. The court's current term is scheduled to end in June.
© Copyright IBTimes 2023. All rights reserved.