Donald Trump's Cabinet Nominations: Senate Approves Tom Price As Health Secretary In Party-Line Vote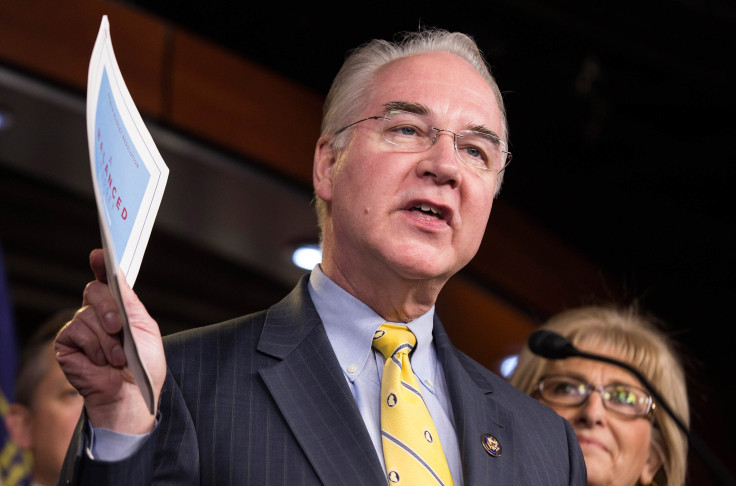 The Republicans won Senate confirmation early Friday for Tom Price as President Donald Trump's health secretary in a vote sharply divided along party lines. This was the fourth consecutive brawl over Trump's Cabinet picks.
The 52-47 roll call ensures that the Georgia congressman will now head the Health and Human Services Department. The debate was prolonged by the Democrats, who opposed Price's confirmation due to his stand on healthcare. This was not resolved until nearly 2 a.m. EST Friday when the Senate approved Price's nomination.
Price will lead an agency that, with a $1.1 trillion budget, is in charge of some of the country's largest public health insurance programs, which Price has attacked throughout his career.
Price is also expected to lead the Republicans' push to erase former President Barack Obama's healthcare policies. The Trump administration is also likely to issue new regulations that would restructure the previous laws passed during Obama's presidency.
"He seems to have no higher priority than to terminate health coverage for millions of people," Sen. Jeanne Shaheen, D-N.H., said. She also said Price's support for limiting women's access to free birth control was "not only wrong, it's arrogant."
Senate Minority Leader Chuck Schumer, D-N.Y., said that with Price's confirmation as health secretary, "the Republicans launch their first assault in their war on seniors."
However, the Senate's No. 2 GOP leader John Cornyn of Texas said that Democrats' "obstruction" of Cabinet nominees under Trump's administration portrayed a rejection of Trump's Election Day victory and threatened "the stability of the government and that peaceful transition of power."
The Republicans have called Price a knowledgeable pick for the job because he is a seven-term House member and an orthopedic surgeon.
Sen. Majority Leader Mitch McConnell, R-Ky., said that Price "knows more about healthcare policy than just about anyone," adding that he would help "bring stability to healthcare markets that Obamacare has harmed."
Once Price takes office, he will also be expected to follow through on an executive order issued by Trump on the first day of his administration that would ask federal agencies to pare back regulatory elements of the Affordable Care Act in certain ways that would not require congressional action.
© Copyright IBTimes 2023. All rights reserved.
FOLLOW MORE IBT NEWS ON THE BELOW CHANNELS