Who Is Ivana Trump? 11 Facts About Ivanka's Mother And Donald's Ex-Wife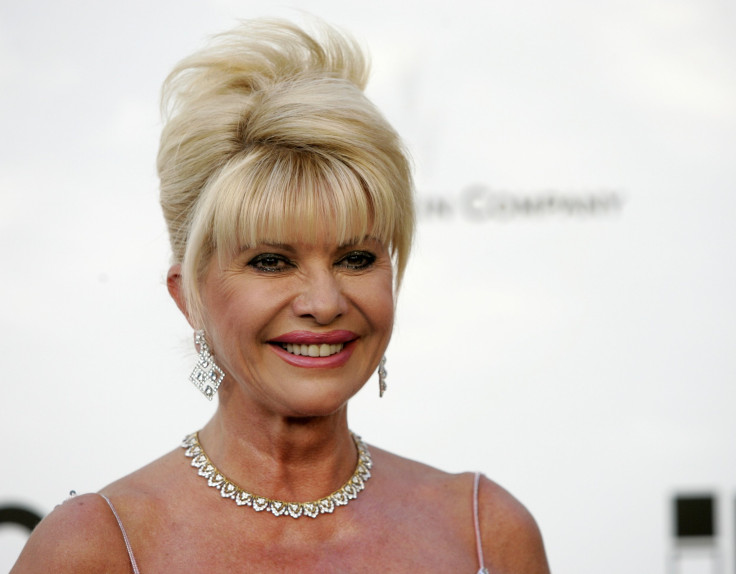 Melania Trump called her husband "intensely loyal to family" during a widely watched speech Monday night at the Republican National Convention. But she isn't his first wife.
Of Donald Trump's three marriages, his longest marriage was to Ivana Trump, the mother of his three oldest children. Their daughter, Ivanka Trump, was scheduled to introduce her father Thursday night before he gave his formal presidential nomination acceptance speech.
"In a decade of glitz, they were the glitziest; in a decade of greed, they were the greediest: He the scrappy investor who made a fortune wheeling and dealing real estate, she the gregarious, Czech-born outsider who charmed and clawed her way into New York's most refined social circles," People magazine once wrote about their marriage.
To truly understand the Trump family dynamics, here are 11 facts about his first first lady.
1. Ivana Trump and Donald Trump divorced in 1991 after his much-publicized affair with model Marla Maples, who later became his second wife.
2. Ivana Trump claims she told Donald Trump to run for president years ago. "Probably five years before our divorce, Reagan or somebody brought him a letter and said, 'You should run for president,'" Donald's first wife told the New York Post. "So he was thinking about it. But then . . . there was the divorce, there was the scandal, and American women loved me and hated him."
3. Ivana Trump and Donald Trump are still friendly toward each other.
4. She claims she gives him campaign advice. "We speak before and after the appearances and he asks me what I thought," she told the New York Post.
5. She grew up in Czechoslovakia, where she was a competitive skier before she became a model.
6. She meet Donald Trump at a New York restaurant where she was eating with friends in 1976. He picked up the tab. The couple wed in 1977.
7. She had three children with Donald Trump: Donald Jr., Ivanka and Eric.
8. She often spends time with her ex-husband and sometime lover, Rossano Rubicondi, according to tabloids. He was her fourth husband and they divorced in 2009 after only being married a year.
9. She once accused Donald Trump of raping her. She later said she felt "violated."
"During a deposition given by me in connection with my matrimonial case, I stated that my husband had raped me," she said. "[O]n one occasion during 1989, Mr. Trump and I had marital relations in which he behaved very differently toward me than he had during our marriage. As a woman, I felt violated, as the love and tenderness, which he normally exhibited towards me, was absent. I referred to this as a 'rape,' but I do not want my words to be interpreted in a literal or criminal sense."
She again clarified her feelings on the incident last year: "I have recently read some comments attributed to me from nearly 30 years ago at a time of very high tension during my divorce from Donald. The story is totally without merit. Donald and I are the best of friends and together have raised three children that we love and are very proud of. I have nothing but fondness for Donald and wish him the best of luck on his campaign. Incidentally, I think he would make an incredible president."
10. Her divorce from Donald Trump was granted in 1991 because of "cruel and inhuman treatment" of Ivana.
11. She allegedly isn't a big fan of Melania Trump. "She can't talk, she can't give a speech, she doesn't go to events, she doesn't (seem to) want to be involved," she said, according to the New York Daily News in October.
© Copyright IBTimes 2023. All rights reserved.
FOLLOW MORE IBT NEWS ON THE BELOW CHANNELS