Who Is James Quincey? Coca-Cola's Incoming CEO Under Pressure To Drastically Cut Calories In Product Lineup
Coca-Cola Co.'s incoming CEO James Quincey is reportedly under pressure to drastically cut the calories of the product lineup. The company announced Friday that Quincey will take over the leadership of the world's largest beverage maker on May 1. He will succeed Muhtar Kent, 64, who will remain chairman of the company.
Quincey, 51, has led Coca-Cola's drive to cut the amount of sugar in its drinks. The incoming CEO said Friday that he would continue the fight against obesity and push to add more low-calorie beverages.
Quincey currently serves as the company's chief operating officer. The British-born has spent two decades at Coca-Cola, where he previously ran the company's European group and Mexican division. He also led the 2009 acquisition of Innocent juice, a brand that's now sold in more than 14 countries.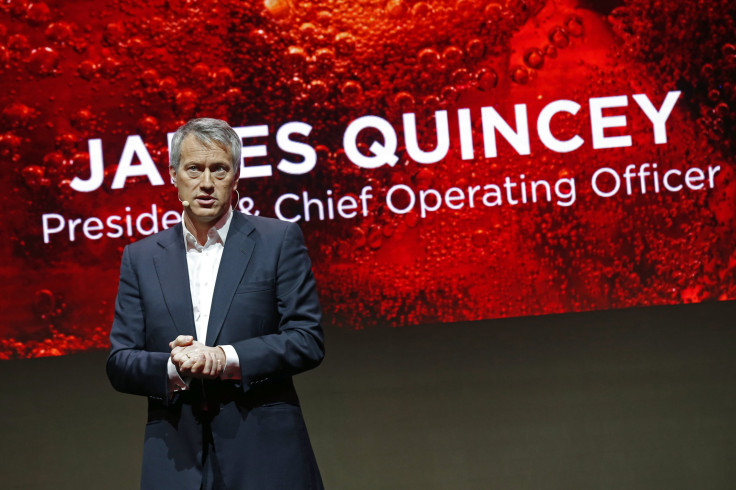 On Friday, Quincey pledged to modernize the company's marketing and distribution at a time when people vastly rely on online shopping.
"He will push toward healthy," Jack Russo, an analyst at Edward Jones, told Bloomberg. He will probably "get the core company focused on doing what it needs to do, and that's new products, innovation — maybe better marketing."
Calories are a bigger concern for consumers these days, and as the chief operating officer, Quincey promoted selling beverages in smaller bottles and cans.
"Smaller packages, less sugar, more variants, better marketing," he reportedly said on a conference call Friday. "We're going to adapt to the changing customer landscape."
Vivien Azer, an analyst at Cowen & Co., told Bloomberg that Quincey looks at Coca-Cola's problems through a more "realistic lens."
Quincey is "much more transparent about the challenges that Coke faces -- in terms of concerns around their products, in particular both sugar and aspartame," she said.
Coca-Cola's stock gained 2.5 percent Friday to $42.
© Copyright IBTimes 2023. All rights reserved.