Who Is Kamala Harris? 10 Facts About Second Black Woman Elected To Senate
California's Attorney General Kamala Harris became the second black women to be elected to the U.S. Senate on Tuesday. The 52-year-old Democrat's platform focused on affordable college education and immigration reforms, among others.
Harris will be the second black woman in the Senate after Carol Moseley Braun from Illinois who served one term from 1993 to 1999. There are, however, 20 black women serving in the U.S. House of Representatives.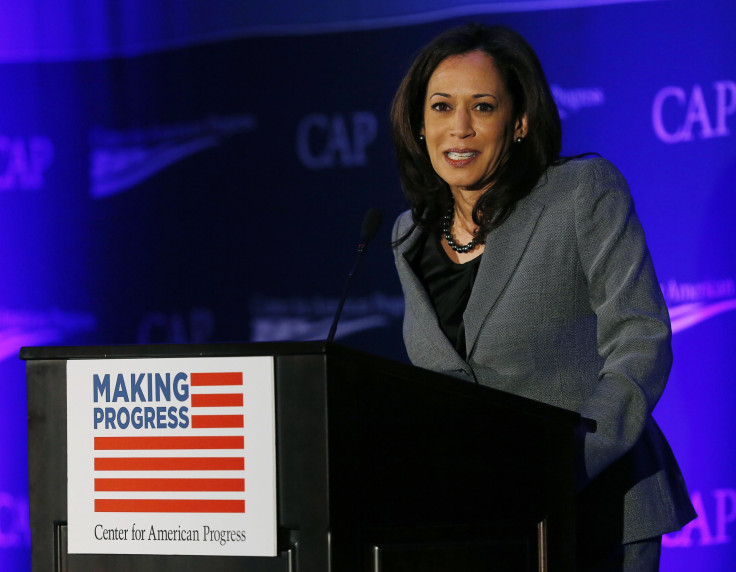 Here are 10 facts about Harris:
She was born in Oklahoma to an Indian mother and a Jamaican father.
Her younger sister Maya is an attorney and was a senior policy adviser to Hillary Clinton's presidential campaign.
Her mother was a scientist and her father was a professor of economics. Both were actively involved in the Civil Rights Movement.
She studied at Howard University, a historically black institution in Washington, D.C., and then moved on to Hastings College of the Law at the University of California, San Francisco.
During her time at Howard University, she got her first taste for campaigning and was elected freshman class representative of the liberal arts student council.
Harris began her career as deputy district attorney in Alameda County, California, and in 2003, was elected the district attorney of San Francisco, where she served two terms.
She was sworn in as attorney general for California in 2011, becoming the first woman and the first non-white person to hold the post.
She is also the first black politician to represent California in the Senate.
She launched her campaign after Sen. Barbara Boxer announced her intention to retire.
Harris, who is also the first South Asian-American in the Senate, had the backing of top Democrats including President Barack Obama and Vice-President Joe Biden.
© Copyright IBTimes 2023. All rights reserved.