Who Is Michael Tubbs? KKK Supporter Accused Of Ordering Charlottesville Violence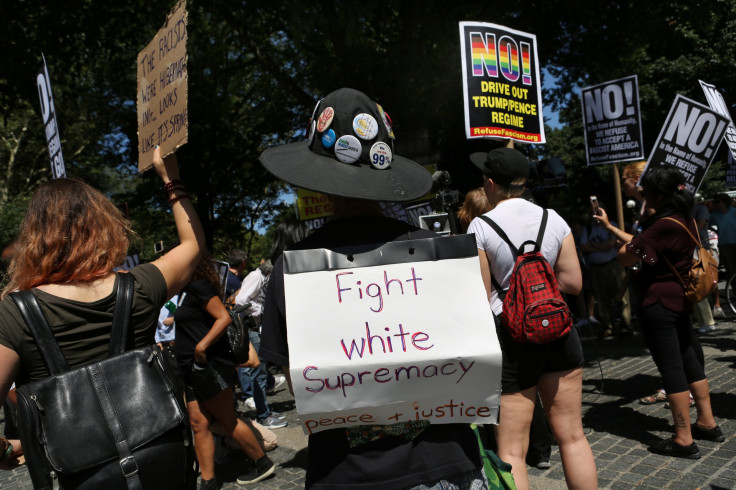 A man, identified as Michael Tubbs, has been accused of ordering violence in Charlottesville, Virginia, during protests for the removal of a statue of Confederate General Robert E. Lee on Saturday. Tubbs, a supporter of the Ku Klux Klan (KKK), was seen in several photos and videos of the protest following which social media users took interest in his identity and role in the demonstration.
Tubbs, who was photographed in several brawls throughout Saturday, is the Florida state chairman of the League of the South. He became part of the Southern nationalist organization after being released from prison for plotting to bomb Jewish and black-owned businesses in Jacksonville, Florida.
"He was a member of the KKK. He was caught stealing guns from the military for the KKK while he was a serviceman. He is a widely known white supremacist and a truly dangerous man. In Charlottesville, he was seen overseeing and ordering much of the violence. He broke multiple laws in doing so and should be arrested immediately," civil rights activist Shaun King wrote on his Facebook page.
Tubbs reportedly has a history in racist movement. In 1987, he robbed of their M-16 rifles during a routine exercise in North Carolina. While escaping, he and his partner shouted, "This is for the KKK."
On Saturday, three suspects in connection with Jason Kessler, an alt-right blogger and an organizer of the "Unite the Right" rally were arrested. One of the suspects James M. O'Brien, who was arrested and charged with carrying a concealed handgun, was friends with several known League of the South members, including Tubbs on Facebook.
Several social media users reacted after Tubbs was identified as the man allegedly watching over the violent protests in Charlottesville.
"Throughout the day, we urged folks not to take the bait -- to deny the KKK the confrontation and celebrity they desire," Charlottesville Mayor Mike Signer had said while urging residents to avoid the protests. "Thousands of people followed that advice, attending a wonderful set of alternative events."
However, things turned ugly when a car plowed into a crowd as white supremacists clashed with counterdemonstrators Saturday. One woman died and 19 others were injured when the car rammed into a gathering of far-right activists who came to the city for the event called "Unite the Right." The driver of the vehicle was identified as James Alex Fields Jr. and was charged with second-degree murder, three counts of malicious wounding and failure to stop after an accident.
"We are closely following the terrible events unfolding in Charlottesville, Virginia. We condemn in the strongest possible terms this egregious display of hatred, bigotry, and violence on many sides, on many sides. It has been going on for a long time in our country -- not President Donald Trump, not former POTUS Barack Obama. It has been going on for a long, long time. It has no place in America," President Donald Trump while reacting to Saturday's situation in Charlottesville.
© Copyright IBTimes 2023. All rights reserved.