Who Is Nikki Tate? American Lawyer's Graphic Hunting Photos Spark Outrage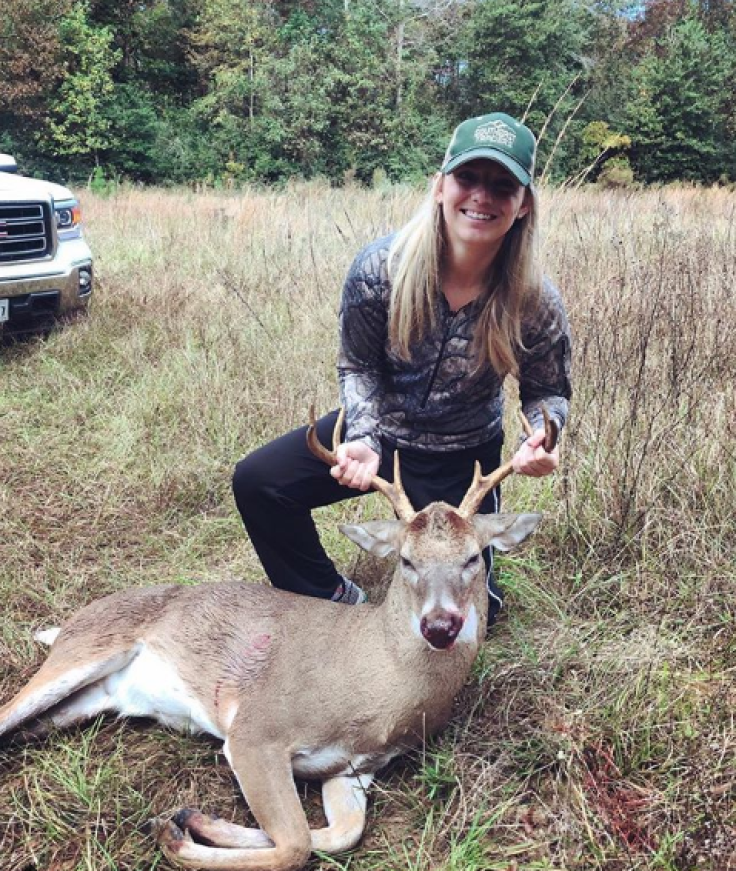 An American woman received death threats after her Instagram account dedicated to her hunting trips sparked outrage on social media. Nikki Tate, a 27-year-old attorney from Dallas, Texas, shared graphic photos of her hunting sessions, showing dead carcasses of the animals she's killed.
Tate, who mainly hunts deer, waterfowl, and hogs, said online that her largest kill was a 180-pound buck. Tate became "addicted" to hunting when she tried bow-hunting at her uncle's ranch in south Texas 10 years ago, she said.
"It was then when I shot a bow for the first time," Tate added. "I loved the challenge, and given my athletic history and competitive personality, I instantly became addicted."
Tate also said: "The very first time I hunted, it was the time of year where we could only kill bucks, and I saw over fifteen doe walk past me, some within 10 yards. I remember shaking the entire time... I hadn't pulled back my bow once, yet the adrenaline pumping through my body was unlike any sport I had ever played. Ever since that moment, I have been hooked."
She also wrote online that all her kills become a meal unless the animal is a predator like a coyote.
"My husband and I skin everything ourselves, and if we can't eat everything, we donate it to organizations that are aimed at feeding the homeless," she said in one of her Instagram posts.
"We pride ourselves in only taking ethical shots, and work hard to make sure that it happens. Hunting helps maintain animal populations at levels that are compatible with human life/activity," she said. "For example, hogs are insanely overpopulated and can cause serious damage to agricultural products, fields, and other vegetation, which can harm livestock. We also hunt coyotes and bobcats for purposes of predator control."
However, her passion did not go down well with social media users who slammed her for the killings and posing with the dead animals.
"What a sick ghastly person. Those animals had lives too…" one person wrote online, while another said: "Sick and disgusting! People like her are what is wrong with this world."
Tate reportedly admitted that her Instagram posts resulted in several death threats.
"I hunt for food, conservation, friendship, and so much more, all of which are very important to me," she said defending herself. "If I can respect others' beliefs, values, and reasons, even those that involve human life and death, please respect mine."
Tate also said that not everyone was against of what she was doing, and after her Instagram account was brought to wider public attention, she received a lot of support.
"This is why I love the hunting community - everyone has each other's backs," she wrote on Instagram. "Proud to be a hunter and will continue to share my story and shed a positive light on hunting and the reasons behind it."
© Copyright IBTimes 2023. All rights reserved.