Who Is Peter Wang? Petition Demands Florida Victim Get Military Burial Honors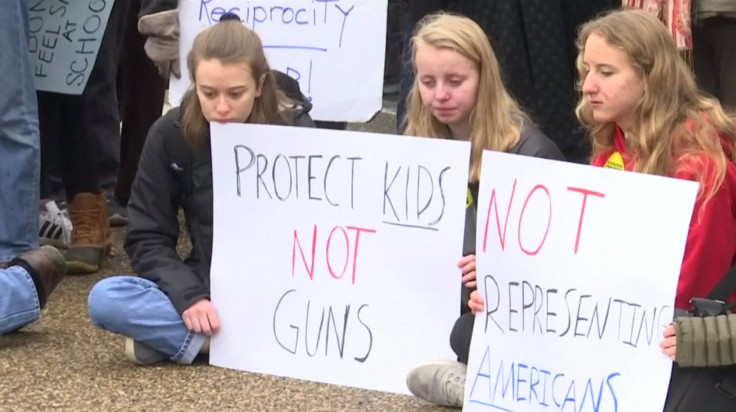 An online petition was filed on Feb. 16 calling on Congress to allow Peter Wang, a 15-year-old freshman who died in the Florida shooting while saving fellow students, to be buried with full military honors. The petition was filed on whitehouse.gov.
The petition states that "Wang was a Jrotc Cadet who was last seen, in uniform, holding doors open and thus allowing other students, teachers, and staff to flee to safety. Wang was killed in the process. His selfless and heroic actions have led to the survival of dozens in the area. Wang died a hero, and deserves to be treated as such, and deserves a full honors military burial."
The petition requires 100,000 signatures to receive a response from the White House. It had received 42, 041 signatures at the time of publishing this story and required 57,959 more by March 18 to reach the goal.
Speaking of Wang, his classmate Kelsey Friend told CNN: "He was one of my closest friends. And he'd always — he's was very kind. He died a gentleman holding the door for other students. And knowing he's gone is going to haunt me forever."
Wang's cousin, Aaron Chen, said he did not want people to remember his brother as a victim. Instead, he wanted people to remember his brother as a hero who lost his life while saving others. Chen said that his brother Wang was "the best brother, cousin, son, and friend anyone could ever ask for."
According to a Miami Herald report, Chen also posted a four-minute video clip on his Instagram account in which he spoke about Wang, and how it was to grow up with him.
"My cousin Peter Wang was one of the 17 people who was murdered in cold blood last Wednesday at the Marjory Stoneman Douglas shooting. But he wasn't just my cousin. He was my brother. He was my rock. He was everything good that I strive to be," Chen said in the video.
"I remember coming to America almost exactly 10 years ago. A few months before I came, I remember my mother calling me all the way from America just to tell me about this kid. This kid that was just like me and all I had to do was wait for a couple months and I'd get to meet him. That kid was Peter," He further said.
According to a report, Wang's funeral is scheduled to be held Tuesday afternoon, Feb. 20 at 1 p.m. EST at Kraeer Funeral Home, 1655 University Drive in Coral Springs. He will be laid to rest at the Bailey Memorial Gardens in North Lauderdale, Naples Daily News reported.
A GoFundMe page was set up for people to donate, grieve, and post their condolences. The page had raised about $16,092 at the time of publishing this story.
The GoFundMe page states the "proceeds were originally going to help with misc expenses, but the family has decided that they want to donate the money to Stoneman Douglas for their ROTC program. They want to ensure that future generation of kids are taught the same values that the program has instilled in Peter."
Peter is survived by his parents and two brothers.
The horrific shooting incident unfolded after an active shooter entered the Marjory Stoneman Douglas High School in Florida and randomly started firing rounds at children and school staff. The gunman, identified as Nikolas Cruz, opened fire on students with an AR-17 rifle. Cruz, a former student at the school, is facing 17 counts of premeditated murder. He is going through a trial at the Broward Circuit Court in Florida.
© Copyright IBTimes 2023. All rights reserved.