Who Is 'Rapey McForehead?' Republican Slammed On Twitter For Criticizing Abortion-Rights Advocates' Looks
The phrase "Rapey McForehead" was trending on Twitter over the weekend after controversial Rep. Matt Gaetz, R-Fla., criticized the physical appearance of abortion-rights advocates.
On Saturday, Gaetz spoke at the Turning Point USA Student Action Summit in Tampa, where he claimed abortion rights advocates were unattractive.
"Have you watched these pro-abortion, pro-murder rallies?" Gaetz told the crowd of students. "The people are just disgusting. Why is it that the women with the least likelihood of getting pregnant are the ones most worried about having abortions?"
The video of the comments surfaced online shortly after and has since received over 4.4 million views.
"Nobody wants to impregnate you if you look like a thumb. These people are odious from the inside and out," Gaetz continued. "They're like 5'2, 350 pounds, and they're like, 'Give me my abortions or I'll get up and march and protest.'"
In 2020, the Justice Department opened an investigation of Gaetz for sex trafficking.
Gaetz, 40, has faced allegations of a sexual relationship with a 17-year-old girl in exchange for money. The House Ethics Committee is also investigating Gaetz.
In his comments Saturday, he suggested abortion-rights advocates should focus on exercising.
"A few of them need to get up and march — they need to get up and march for like an hour a day. Swing those arms, get the blood pumpin', maybe mix in a salad," he said.
By Sunday, Gaetz's name and "Rapey McForehead" was trending on Twitter, with users slamming his earlier comments.
"How did we get to a point where people in office can speak to women publicly like this? #women we have to fight together so this stops. #Florida needs to know this can't continue. Our #daughters need to know they should never be spoken to like this. @mattgaetz #rapeymcforehead," one user posted.
Others called for Gaetz to face punishment amid the sex trafficking investigation.
"It's insane to me and frankly very disgusting that Matt Gaetz is under criminal FBI investigation for child sex trafficking and continues to be free let alone hold public office as he insults women's looks on stage. We need to see his perp walk, not his sexist misogynistic rants," a user posted.
Gaetz has denied having a romantic relationship with minors.
Joel Greenberg, an associate of Gaetz, pleaded guilty in May 2021 to six criminal charges, including sex trafficking of a minor. He will be sentenced in August.
Greenberg has reportedly cooperated in multiple inquiries, including Gaetz's role.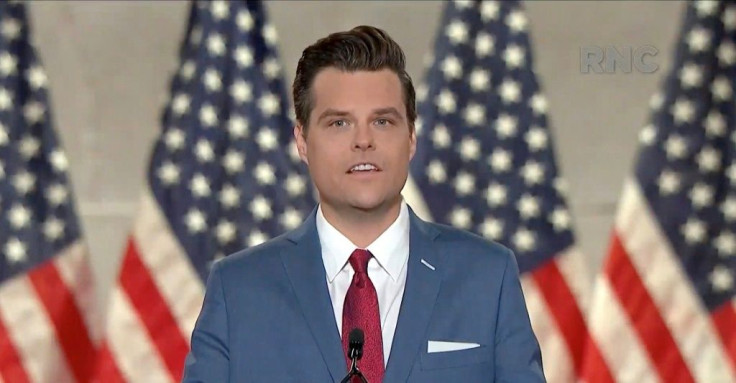 © Copyright IBTimes 2023. All rights reserved.