Matt Gaetz Scandal: Ex-Girlfriend Testifies In Sex Crimes Investigation Amid Possible Immunity Deal
The ex-girlfriend of Rep. Matt Gaetz, R-Fla., testified Wednesday in front of a federal grand jury in downtown Orlando, according to NBC News.
Gaetz is reportedly being investigated for obstructing justice, sex trafficking of a 17-year-old, and violating the Mann Act, which prohibits the transportation of women and girls across state lines for immoral purposes.
Gaetz's ex-girlfriend could be crucial in the prosecution's case due to her relationship with the congressman from 2017 to 2018 and a recorded phone call. Gaetz was reportedly in an open relationship with his ex-girlfriend, who traveled with him and others, including young women, to the Bahamas.
After the Department of Justice launched an investigation, reports surfaced of a recorded phone call conversation involving Gaetz, Gaetz's ex-girlfriend and a witness in the probe.
During the conversation, Gaetz is suspected of obstructing justice. Gaetz's ex-girlfriend has reportedly been negotiating with the prosecution for an immunity deal that would allow her to avoid obstruction of justice charges.
As part of the deal, the woman would testify in the investigation to provide information on whether Gaetz paid a 17-year-old girl for sex in 2017 and broke federal law by paying prostitutes in another country.
Tim Jansen, the attorney of Gaetz's ex-girlfriend, has a known history of securing immunity deals. Jansen previously obtained an immunity deal for a man who admitted to murdering someone.
Gaetz became publicly embroiled in the scandal after his former associate Joel Greenberg reportedly cooperated with prosecutors in the sex crimes investigation. Greenberg agreed in May to plead guilty to six charges, which included wire fraud, sex trafficking of a minor, stalking, identity theft, and conspiracy to bribe a public official.
Gaetz's attorney Isabelle Kirshner has denied the possible crimes alleged against her client.
"​​We have seen no credible basis for a charge against Congressman Gaetz. We remain steadfast in our commitment to challenge any allegations with the facts and law," Kirshner said in a statement to The Hill.
Gaetz has not been charged with a crime. He has previously denied having sex with a minor as an adult and has referred to the investigation as a "witch hunt."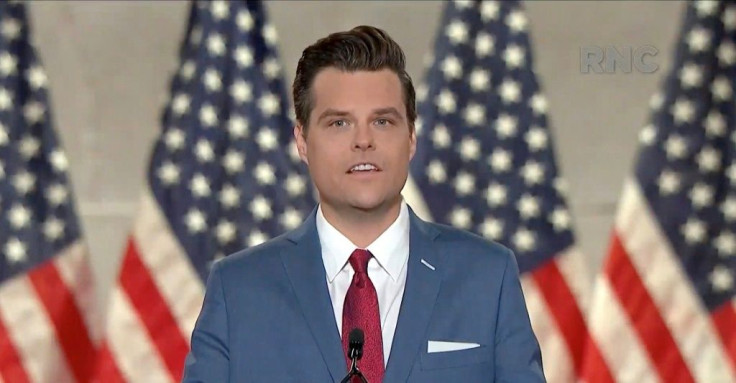 © Copyright IBTimes 2023. All rights reserved.