Who Is Rex Tillerson? 5 Facts About Trump's Nominee For Secretary Of State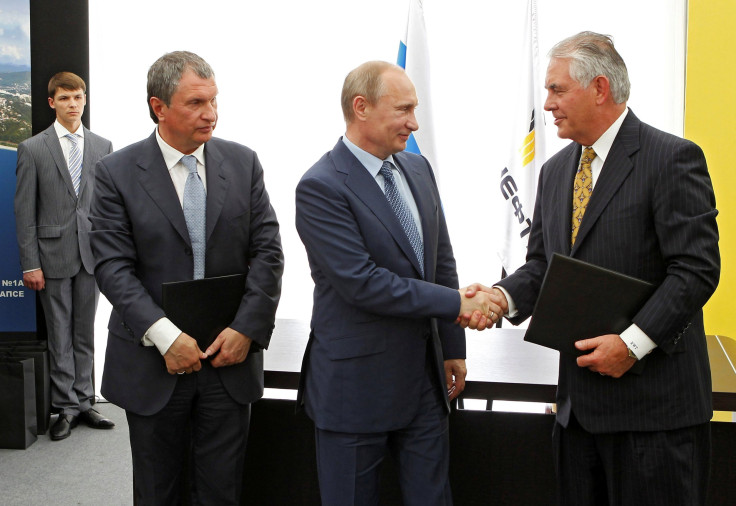 The Senate confirmation hearing for Texas-based Exxon Mobil Corp. Chief Executive Rex Tillerson will begin Wednesday at 9 a.m. EST, as the legislative body's Committee on Foreign Relations will debate whether the oil magnate is qualified to serve as Secretary of State in Donald Trump's administration just over a week later. Below are five facts about America's possible top diplomat for the next four years.
He's a serious Boy Scout. Actually, to be specific, he's an Eagle Scout, and served as president of the Boy Scouts of America between 2010 and 2012. Around the end of his tenure, he was a key part of the push to except gay members into the national organization.
"We've got to listen to people," he told a crowd in Texas in 2013 when announcing the change, according to the Boston Globe. "We've got to listen to their concerns, we've got to listen to their fears. We can't be dismissive of them."
He's an engineer. A 1975 graduate in civil engineering from the University of Texas at Austin's Cockrell School of Engineering, Tillerson was named a "distinguished graduate" of the school in 2006. His first job out of college was at none other than Exxon—the company he's presided over as CEO for the past decade—as a production engineer. He's never worked anywhere else.
He's very rich. Ranking 24th on Forbes' 2016 list of "The World's Most Powerful People," Tillerson, 64, made about 500 times the median American household income in 2016, the Washington Post reported. Ahead of his planned March 2017 retirement, Tillerson was set to leave with $218 million in Exxon stock and a pension plan worth $69.5 million, the newspaper found.
And he'll stay that way as Secretary of State, if approved. Ahead of the confirmation hearing, Exxon announced that Tillerson would sell his more than 600,000 shares of the company and receive cash in place of the 2 million shares he would've received over the next 10 years, had he avoided public office—"under the agreement in consultation with federal ethics regulators."
The company also said he would give up his entitlement to $4.1 million in cash bonuses and would suffer a total net compensation loss $7 million. He further detailed his divestment efforts in a letter to the State Department's ethics officer, Katherine McManus, describing his plans to sell holdings in the 156 companies in which he held shares.
He has business interests around the world. Aside from winning Russia's Order of Friendship award for his criticism of U.S. sanctions against Moscow, which essentially froze Exxon's assets in the oil rich country, he stands to award his company billions of dollars by softening Washington's Russia stance, the New York Times reported. Exxon operates in dozens of other countries, including Iraq, Eqypt, Colombia, Turkey, Ukraine, Taiwan and China.
© Copyright IBTimes 2023. All rights reserved.