Who Is Samantha Blake Cohen? Michael Cohen's Daughter Walks With Him To Courthouse With Crutch
[Correction 9:17 pm. ET: A previous version of this article misstated the date of Samantha Cohen's birthday. The sentence has been omitted.]
As Donald Trump's former lawyer Michael Cohen was sentenced to a three-year prison sentence Wednesday for lying about Trump's Russian business deals, among other fraudulent crimes, his family was seen by his side. Most notably visible was his daughter, Samantha Blake Cohen, who has been embroiled in controversy after her father posted questionable photos of her on social media.
Samantha, who was pictured walking to the New York courthouse while using a crutch, reportedly gasped and wept as her father was sentenced.
Samantha, 22, is the eldest child of Michael and his wife, Laura Schusterman. She also has a brother named Jake Cohen.
A 2018 graduate of the University of Pennsylvania with a political science degree, Samantha was a member of the Tabard Society - a non-Greek sorority.
Her LinkedIn page says she is "seeking job opportunities." She was also a lingerie model.
In May, Michael Cohen posted a photo on Twitter of Samantha wearing lingerie. He wrote as the caption, "So proud of my Ivy League daughter…brains and beauty channeling her Edie Sedgwick." The photo was a recreation of the well-known Warhol-Sedgwick photo.
Samantha told the Daily Mail regarding the photo that her father released on Twitter, "My father, who has always been supportive of my endeavors, was merely expressing his pride. There is nothing inappropriate in the picture and those who seek to make it something it is not are merely Trump haters who are using this an opportunity to stir up drama. I find it hypocritical that those who consider themselves liberal would criticize a woman embracing her body. There is nothing sexualized about the photograph… it is tasteful and it is demure."
She also responded to the lingerie photo her father posted on Twitter by commenting to the Cut, "Just because you don't agree with his politics doesn't mean you have to succumb to a level of bullying, And yes you are bullying."
Samantha attended an inaugural ball with her father in January 2017 in Washington, D.C. One might say she was the talk of the ball as fodder occurred where a commenter wrote to Michael Cohen, "A bit of fatherly advice: Don't let her out of the house! A very pretty young lady. I wish you luck."
Michael Cohen responded by saying, "thank you…fortunately for me she is as smart as she is beautiful."
Another commenter went on the attack: "would you be proud if trump grabbed her by the p**** or is that just other peoples daughters?"
Michael Cohen responded by saying, "so long #troll with a whopping 0 followers. #bye."
According to Michael Cohen, Samantha's Instagram account gave him an alibi for his whereabouts, after Buzzfeed published documents suggesting that he had traveled to the Czech Republic in August 2016. The news outlet claimed that he met with Russian government representatives. Responding to the article, he tweeted a photo of his passport with the caption, "I have never been to Prague in my life #fakenews."
The saga wasn't over, as Michael Cohen later reposted to an Instagram post from his daughter that placed him in Los Angeles, celebrating his birthday with her in August. The post was captioned: "Happy birthday to the best dad in the whole wide world… 50 never looked so good."
He later filed a lawsuit against Buzzfeed, which was later dropped.
Samantha had an adventurous youth, having climbed Mount Kilimanjaro when she was 17 years old. The endeavor also helped raise $22,000 for St. Jude's Children's Hospital, according to a profile in Shape Magazine.
She had interned at St. Jude's Children Hospital in 2011 and spoke fondly of the experience, according to New York Family. "I got close with about 30 kids. Seeing their positive attitude day in day out challenges you to be as positive as you can be. You want to be there for them."
Samantha has also volunteered time with Operation Smile and Gabrielle's Angel Foundation.
According to Shape Magazine, she was a straight-A student in high school.
Samantha also was an avid figure skater, as well as a jazz performer and ballet dancer. Knee issues at age 16 reportedly prevented her from living out her dreams of being a dancer. She told Shape Magazine, "I really enjoyed dancing but realized it's not all I want out of life."
Michael Cohen was seen holding a firm grip on Samantha as he made his way into the courtroom. She reportedly had just undergone hip surgery and needed a crutch to walk.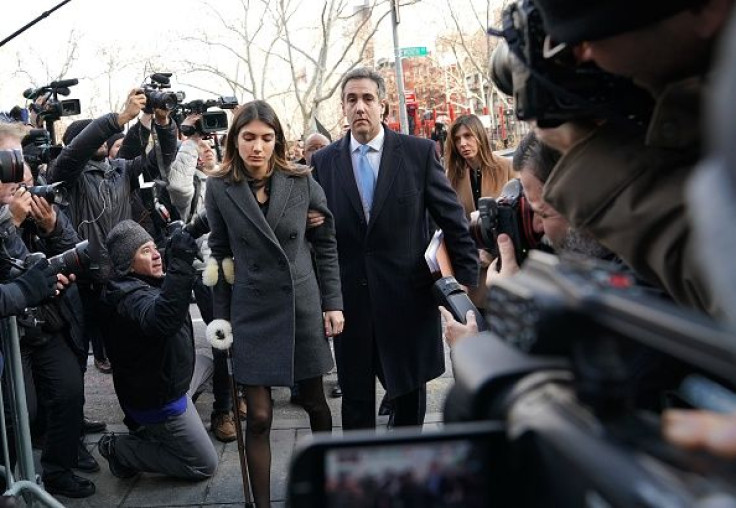 © Copyright IBTimes 2023. All rights reserved.