Who Is Steven Joshua Dinkle? Ex-KKK Leader Sentenced To Prison In Sexual Assault Case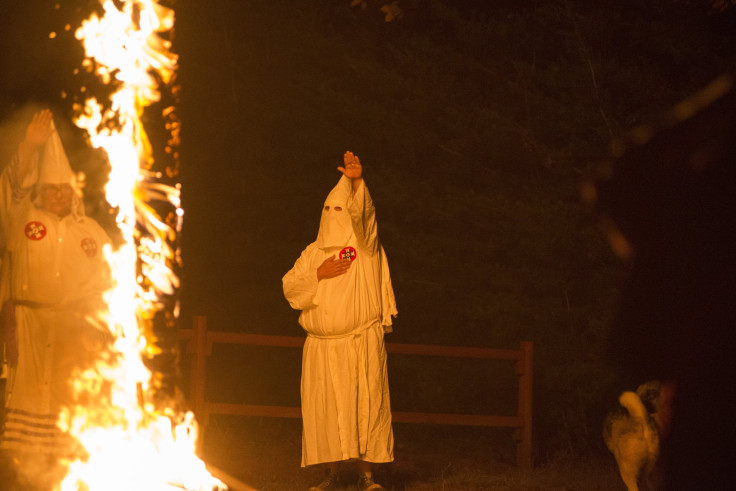 Steven Joshua Dinkle, a former Ku Klux Klan leader, was handed down a prison sentence for sexually assaulting a woman in southern Alabama, according to reports Friday.
Dinkle was sentenced to 10 years in prison and fined $1,000 by Dale County Circuit Judge William Fillmore, the Associated Press (AP) reported, citing a court order signed Thursday. Ten years is the maximum punishment carried by the class C felony.
Read: KKK Fliers Found In Bucks County, Pennsylvania; Students Respond With 'Love Not Hate' Rally
"The state is very thankful the judge saw fit to give him 10 years and make it consecutive in his currently federal sentence," the District Attorney Kirke Adams said.
However, Dinkle's lawyer David Harrison said the punishment was harsh.
"This was punished at the top of that range. 10 years and so yes, we believe it was very harsh but again the court has its job and we have ours and he's doing what he's sworn to do," Harrison reportedly said.
Harrison also said Dinkle disagreed with the verdict and planned to appeal further. The defense attorney maintained he did not know about Dinkle's involvement with the KKK.
"My client denies he did anything wrong. He believes it is a situation where an ex-fiancé got very angry at him," Harrison said.
However, Adam stated: "What he was convicted of is just very offensive and I really felt bad for our victim in this case, that she not only had to go through this but had to go through a trial and we had to report to the jury via video what happened in this case and for her sake I'm glad it's over."
Prosecutors claimed the 31-year-old Dinkle recorded himself sexually assaulting an incapacitated woman. In June, the jury convicted him of sexual assault.
According to the AP, the victim wrote a letter asking the court to give Dinkle a tough sentence.
"Don't go easy on him like everyone else. Show him there are consequences for his actions," the woman reportedly wrote.
In 2014 Dinkle was sentenced to two years in jail for a hate crime and obstruction of justice. He was reported to have burned a six foot cross in a predominantly black neighborhood in Ozark. Despite receiving the two-year sentence, he was released in May 2015. Later, he was again sentenced to an additional 15 months in prison after being found guilty of possessing a firearm.
According to federal officials, Dinkle was the exalted cyclops of the Ozark branch of the International Keystone Knights, which is the Arkansas-based KKK group, the AP reported.
Read: KKK Leaders Arrested For Stabbing Fellow Klansman Before Donald Trump Victory Parade
In 2014, Morris pleaded guilty after being accused of lying to grand jurors about being involved in the KKK, court documents reportedly showed.
© Copyright IBTimes 2023. All rights reserved.