Who Is Sydney Chaffee? National Teacher Of The Year Honored By President Trump, First Lady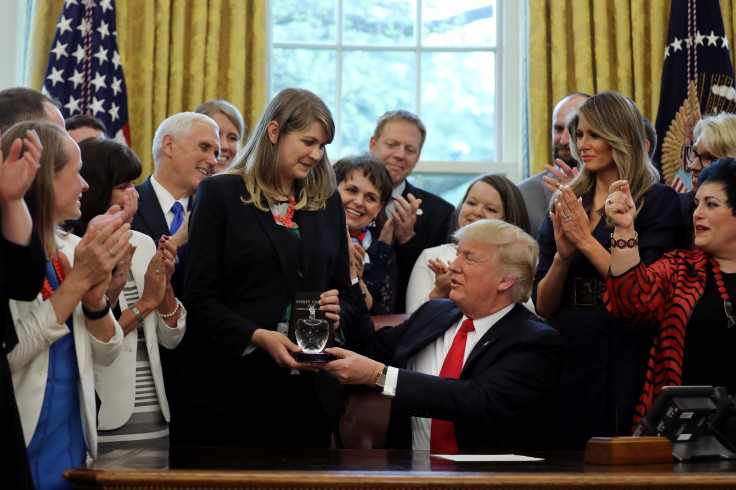 President Donald Trump and wife Melania Trump honored Sydney Chaffee, a humanities teacher at Dorchester, Massachusetts' Codman Academy, as the 2017 National Teacher of the Year at the White House on Wednesday.
"It's my pleasure to welcome so many extraordinary teachers to the White House," the president said as he welcomed 55 Teachers of the Year from different states. "Each of you has dedicated yourself to inspiring young minds and to putting our children on a path to happiness and success – lots of success."
Read: Is Trump Good For Education? For-Profit College Stocks Rise Amid Regulation Delay
"Today, we honor one teacher in particular," Trump continued. "She is the 2017 National Teacher of the Year, Sydney Chaffee."
Chaffee, who got her masters degree in education at Lesley University, was described by her colleagues as a dynamic person. Thabiti Brown, Head of School at Codman Academy told CBS News, "She's a great example of the drive, the force, the willingness to do whatever it takes to make sure more students grow and learn."
"I think I do a lot of the things that great teachers do, and that's why I'm being recognized," Chaffee reportedly said. "Students need to know that I believe in them. They need to know that I believe that they can achieve."
Chaffee being honored as the National Teacher of the Year is also the first instance in 65 years that the award has gone to a teacher from Massachusetts.
"Sydney, I would like to congratulate you on this tremendous achievement," Trump said. "There is nothing more important than being a teacher, and certainly for being a great teacher. You're all great, great teachers, and congratulations to all."
Chaffee could not hold back her tears at the Oval House, to which Trump replied: "I know, the Oval Office can do that."
© Copyright IBTimes 2023. All rights reserved.