Who Voted For Trump? 2016 Exit Polls Compared To 2012 Voter Turnout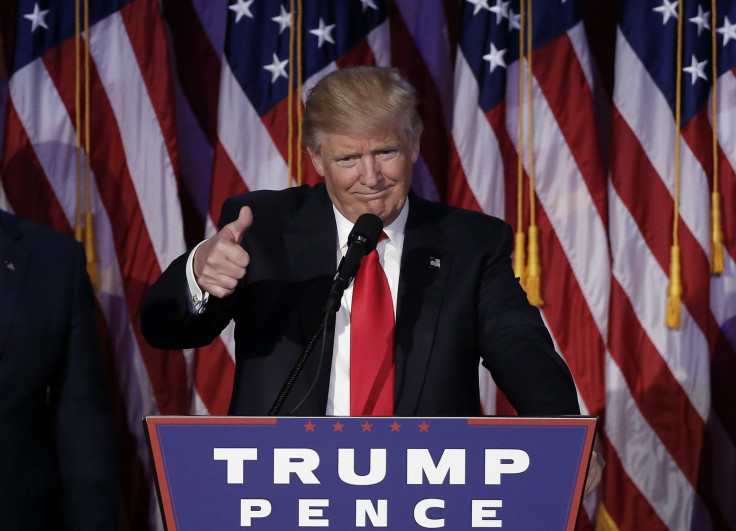 Unlike four years ago when a massive turnout by African-American voters was seen as critical to the re-election of President Barack Obama over Republican rival Mitt Romney, the 2016 election hinged on turnout by women, white college graduates and Hispanics. Here's what we know about how various demographics voted.
Republican Donald Trump won Tuesday's race, defeating Democrat Hillary Clinton but losing the majority of black Americans' votes. Exit polls indicted 88 percent of black voters backed Clinton. Only 8 percent supported the billionaire, CNN reported.
Overall, Romney captured 52 percent of men's votes to Obama's 45 percent, while Obama gained 55 percent of the female vote to 44 percent for Romney. Pre-election polls gave Trump a commanding lead among men, especially white men, and Clinton the lead among women. ABC News' exit poll data showed Clinton up by 12 percentage points among females and Trump with the same advantage among males. Trump alienated many women with his remarks in an "Access Hollywood" tape in which he bragged about forcing himself on women. His call for punishment for women who undergo abortions was also unpopular, although he retracted the latter.
Romney captured 59 percent of the white vote while Obama took 93 percent of the black vote, 71 percent of the Hispanic vote, 73 percent of the Asian vote and 59 percent of the vote from other groups. After the 2012 election, the Republican Party performed a post-mortem, concluding it had to broaden its appeal to minority voters.
Trump, however, directed his campaign to whites who felt alienated by the influx of Hispanic and other immigrants as well as those who have lost their jobs to trade agreements that shipped many manufacturing jobs overseas where labor is cheaper. Trump promised to overturn those trade agreements and bring manufacturing back to the United States.
In 2012, Obama won 60 percent of the millennial vote to 37 percent for Romney. Clinton had trouble maintaining that edge because Sen. Bernie Sanders, I-Vt., captured the imagination of that group during the primary season. Many younger voters were reluctant to transfer their loyalty to Clinton, in part because of policy differences on such issues as single-payer healthcare, capitalism in general and their own poor job prospects. Among those 65 and older, the vote went to Romney in 2012, and this time it around went to Trump. Clinton captured just over half of voters between 18 and 29, according to ABC News.
Obama's appeal cut across education levels, the exception being among those who graduated college, 51 percent of whom supported Romney. Trump did best among those with a high school education or less. During the primary campaign, Trump declared he loves the "poorly educated."
Unlike four years ago, Trump appealed to those making less than $50,000, with those in higher income brackets favoring Clinton. Obama played better among those who earned less than $50,000, while Romney secured the votes of those in higher income brackets, especially after his 47 percent remark, a reference to those surviving on welfare or Social Security who are more inclined to vote for Democrats. Trump, on the other hand, railed against Wall Street and corporate interests who know how to work the system.
© Copyright IBTimes 2022. All rights reserved.
FOLLOW MORE IBT NEWS ON THE BELOW CHANNELS