Who Will Be Ambassador To Russia? Jon Huntsman, Former Utah Governor, Reported In Talks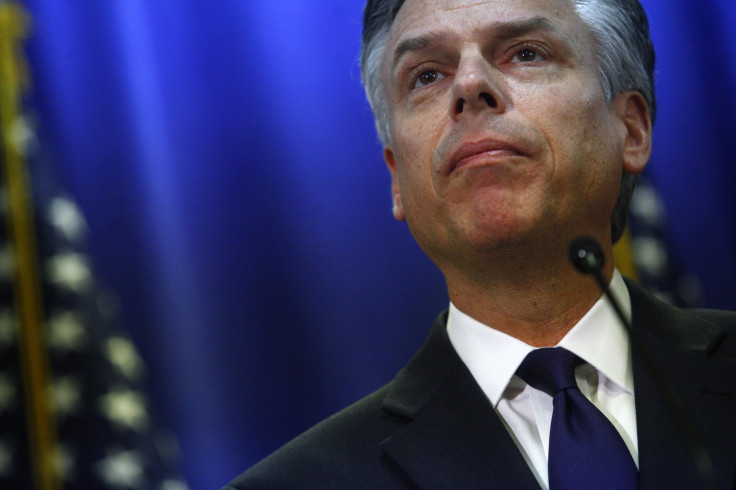 Former Utah Gov. Jon Huntsman, who served as former President Barack Obama's ambassador to China, reportedly is in negotiations to become the U.S. ambassador to Russia. The report comes one day after another report saying he was under consideration for a top State Department position.
CNN, quoting a senior administration official, reported Wednesday Huntsman spoke with Secretary of State Rex Tillerson about the ambassadorship last week. CNN, citing another source, said Huntsman also had been in touch with some of President Donald Trump's top advisers.
The Wall Street Journal reported Tuesday Huntsman is under consideration for the No. 2 position at the State Department. During the transition, he was among those under consideration for secretary of state.
Huntsman ran for the Republican presidential nomination in 2012 and served two GOP presidents: as George H.W. Bush's ambassador to Singapore and George W. Bush's trade ambassador to Asia.
Chris Karpowitz, co-director of Brighan Young University's Center for the Study of Elections and Democracy, told the Deseret News appointing Huntsman as ambassador to Russia would show the administration is "serious about having experienced people who know what they're doing in a position to deal with Russia on a regular basis."
During the 2012 campaign, Huntsman said the United States had been turning a blind eye to the Kremlin's faults. He said working with Russia on arms control was necessary but the U.S.-Russian relationship needed to be viewed "with more objective eyes."
Trump has been the target of critics who think his attitude toward Russia is too soft. Questions also have been raised about whether campaign officials had regular contact with Russian officials, and U.S. intelligence agencies have concluded Russia meddled in the 2016 presidential election on Trump's behalf.
Huntsman initially supported Trump's campaign but suggest Mike Pence replace Trump at the top of the ticket when a tape surfaced of Trump joking about molesting women and saying he could get away with it because he was rich and famous.
Huntsman's family had business ties to Russia right after the end of the Cold War, operating six businesses including plants that made pigments and polyurethanes, the Salt Lake Tribune reported. The family pulled out after Russia tried to impose retroactive taxes and penalties on the companies.
More recently, Huntsman has been involved with the No Labels group, which seeks to push Washington back toward bipartisanship, and the Atlantic Council, a foreign policy think tank.
© Copyright IBTimes 2023. All rights reserved.