Who Will Lead Trump-Russia Investigation Now? Devin Nunes Steps Aside From Probe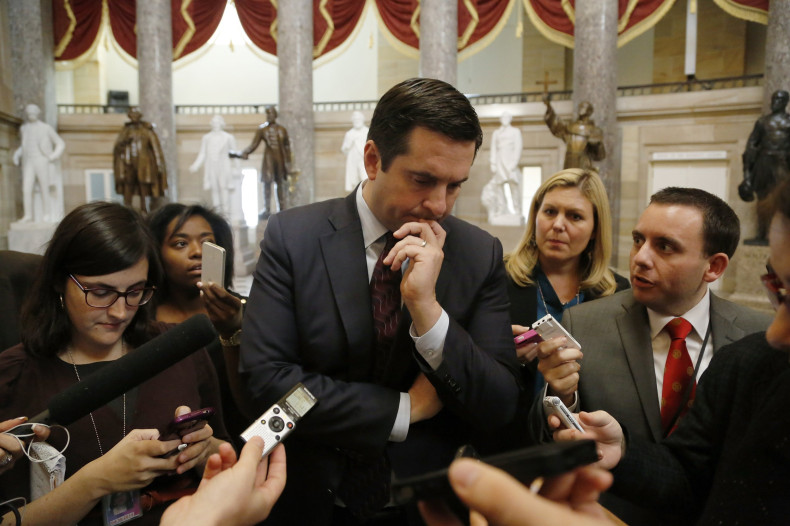 California Rep. Devin Nunes stepped down as the leader of the House investigation into Russia's involvement in the 2016 election, and possible ties between the Trump campaign and Russian hackers, the House Intelligence Committee announced Thursday. A new group of Republican lawmakers will take over leadership of the probe.
Congressmen Michael Conaway, R-Tex, Trey Gowdy, R-S.C., and Tom Rooney, R-Fla., will take over the investigation, Politico reported, with Conaway taking the lead. The three men will work with California Rep. Adam Schiff, the top Democrat on the House Intelligence committee. Last week, Schiff called on Nunes to recuse himself from the investigation after the GOP congressman provided information with the White House before sharing it with this own committee.
Nunes is the chair of the House Intelligence Committee, a position he will keep as he temporarily steps aside from the current investigation.
Speaker of the House Paul Ryan said he supported the decision.
Nunes' decision is in response to the House Ethics Committee's announcement that it is opening an investigation into Rep. Devin Nunes based on allegations he may have improperly disclosed classified information.
In a statement, Nunes called the investigation "politically motivated."
"The charges are entirely false... and are being leveled just as the American people are beginning to learn the truth about the improper unmasking of the identities of U.S. citizens and other abuses of power," Nunes said.
Conaway has been part of the probe since its inception. In March, Conaway was one of many lawmakers who grilled FBI Director James Comey on Capitol Hill about Russian interference in last year's election. Conaway challenged Comey's assertion that Russian President Vladimir Putin favored Donald Trump during the campaign.
"Putin hated Secretary Clinton so much that the flip side of that coin was that he had a clear preference for the person running against the person he hated so much," Comey said. "Yeah, that might work on Saturday afternoon when my wife's Red Raiders are playing the Texas Longhorns," Conaway said. "She really likes the Red Raiders... but the logic is that because [Putin] really didn't like... candidate Clinton, that he automatically liked Trump. That assessment is based on what?"
Comey said the assessment was based on "logic."
"Whoever the Red Raiders are playing, you want the Red Raiders to win. By definition, you want their opponent to lose," Comey said.
Conaway, who was elected to Congress in 2004, once chaired the House Ethics Committee.
California Rep. Adam Schiff, the ranking Democrat on the House Intelligence Committee, made a brief statement to reporters on Thursday and praised both Nunes' decision and Conaway.
"I look forward to working with Mr. Conaway," Schiff said, saying the investigation needed to get "back on track."
Schiff did not take questions from reporters.
© Copyright IBTimes 2022. All rights reserved.