Why 2014 Was Jennifer Lawrence's Best Year Yet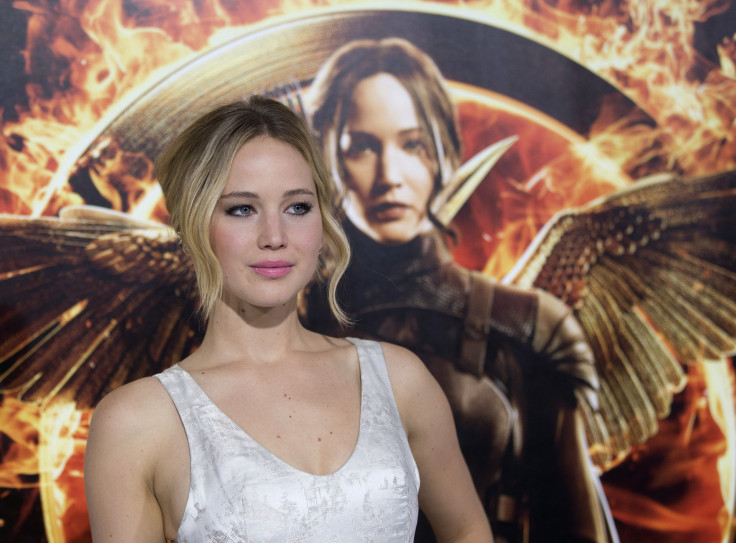 Jennifer Lawrence, 24, might not consider the year her naked photos were released to be the best year ever, but her bank account would disagree. Despite the Fappening, Lawrence turned out to be the top-grossing actor in Hollywood, according to Forbes.
Despite major success, Lawrence technically slowed down this year. Since 2011, the actress has had at least three movies as year come out, but in 2014, Lawrence only appeared in two. Slowing down clearly didn't lead to less money, but it probably helps that they were part of two highly successful movie franchises. "X-Men: Days Of Future Past" and "The Hunger Games: Mockingjay Part 1" together grossed $1.4 billion at the box office (and will earn more before the year ends). However, JLaw's fantastic year didn't start with box office success.
Lawrence kicked off 2014 with a Golden Globe win, taking home the award for Best Performance by an Actress in a Supporting Role for her work in "American Hustle." The statue was the first of several trophies she would pick up, which included a BAFTA and an MTV Movie Award. However, more people might remember Lawrence's Golden Globe dress rather than her win. The simple white Dior dress sparked a meme with people donning their own versions of the dress. "Arrow" star Colton Haynes was one of the first to show his version of JLaw's look on Instagram.
Then, as if her first Oscar fall wasn't memorable enough in 2013, Lawrence managed to lose her balance again on the Academy Awards red carpet. Apparently, her clumsiness only adds to her appeal. FHM named her the Sexiest Woman in the World in May 2014.
June proved that Lawrence was a top earner. Forbes listed her as the second highest paid actress in Hollywood. She reportedly made $34 million between June 2013 and June 2014. Sandra Bullock topped her with $51 million.
Lawrence's year unfortunately couldn't go on without any issues. She broke up with longtime boyfriend Nicholas Hoult in August. Later that month, nude photos leaked in a massive hacking that affected over 100 celebrities. "It is not a scandal. It is a sex crime," Lawrence told Vanity Fair. "It is a sexual violation. It's disgusting. The law needs to be changed, and we need to change. That's why these Web sites are responsible. Just the fact that somebody can be sexually exploited and violated, and the first thought that crosses somebody's mind is to make a profit from it. It's so beyond me."
JLaw bounced back, though. In her personal life, she had a brief relationship with Chris Martin and her career kept churning out successful films. "The Hunger Games: Mockingjay Part 1" debuted at the top of the box office, and it was the biggest opening weekend for any film in 2014 with over $121 million.
As if box office success wasn't enough, Lawrence even had a single hit the charts. "The Hanging Tree," a song off the "Mockingjay" soundtrack, debuted at number 12 on the Billboard Hot 100.
"I do not like singing in front of other people. It's, like, my biggest fear. I cried on set that day," Lawrence told David Letterman. "That was awful."
While that might not be the reaction most people have to a hit single, fans know that Lawrence likes to remain humble and down-to-earth. The star even took time on Christmas Eve to visit sick children. She went to Kosair Children's Hospital in her hometown of Louisville, KY to spread some holiday cheer. Making a bunch of kids happy was probably just the cherry on top of Jennifer Lawrence's awesome year.
So, what does 2015 hold for the actress? The actress will end her run as Katniss Everdeen when "Hunger Games: The Mockingjay Part 2" hits theaters in November. She'll also star alongside Bradley Cooper as a Long Island single mom in "Joy." A tentative release date for the film is Dec. 25, 2015.
© Copyright IBTimes 2023. All rights reserved.