Why The 'Angry Birds' Frozen Yogurt Tie-In Is The New Flavor In Movie Marketing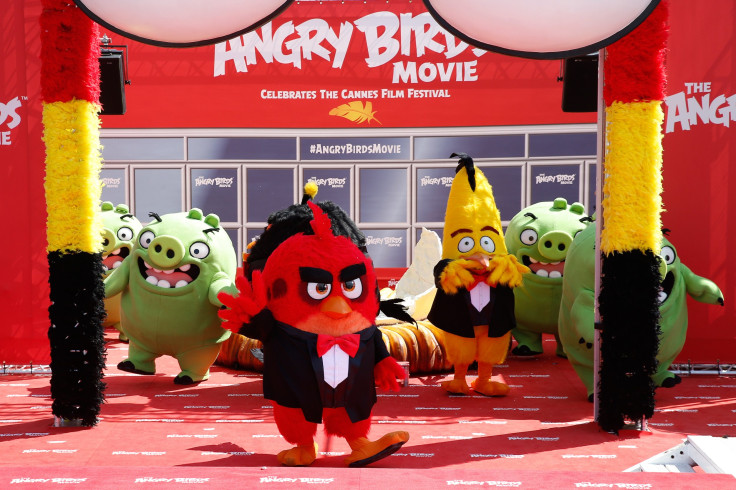 LOS ANGELES — After years of focusing almost exclusively on drive-throughs at fast-food chains — and getting plenty of backlash for it — children's movie marketers have been looking for new ways to reach kids whose parents would never pass through the Golden Arches. They may have found a sweet spot in the favorite dessert among people who insist they never eat dessert: frozen yogurt.
Earlier this month, the frozen yogurt purveyor Menchie's rolled out two new flavors based on characters from Sony Pictures Entertainment's "Angry Birds," a film based on the ubiquitous mobile game from Rovio Entertainment that opens in U.S. theaters this weekend. Two more flavors are coming next month through the end of the promotion on June 30. Menchie's "Angry Birds" tie-in comes on the heels of a similar move from its competitor Yogurtland, which introduced six "Kung Fu Panda 3"-inspired flavors in January.
Menchie's is just part of a massive marketing campaign for "Angry Birds," which the Los Angeles Times reported cost $400 million, the most ever for a Sony animated film. That blitz is not just targeted at kids — unlikely partners such as the Novotel business-focused hotel chain and Home Depot are a testament to the broad demographic reach of "Angry Birds." One reason for such a substantial push could be the fact that "Angry Birds" mania peaked in late 2011, and some of its biggest fans have moved on to new ways of wasting time on their phones.
While a lot about the "Angry Birds" rollout is particular to this one movie, its frozen yogurt partnership could be a sign of things to come. Fast food has traditionally been the major source of youth-targeted movie marketing in the dining sector — and "Angry Birds" indeed has a McDonald's tie-in — but its dominance could be starting to wane. A 2013 Robert Wood Johnson Foundation study found that McDonald's and Burger King together made up basically all TV advertisements for kid's meals, and 55 percent of those ads included movie tie-ins. But the increasingly terrible optics of having ripped superheroes hawking processed nuggets to kids and gradual changes in the dining choices of American families have created an opening for alternatives such as Menchie's.
Glen Rothstein, a partner at law firm Greenberg Glusker who specializes in entertainment, told International Business Times he expects relatively healthy kids' movie tie-ins to ramp up even more. "Parents nowadays would much rather indoctrinate their kids into a healthier lifestyle," he said.
And frozen yogurt, something as beloved in L.A. as providing unsolicited driving directions, appears to be a big beneficiary of that shift. While it may not be salad, the flavors involved in the "Angry Birds" tie-in are materially healthier than, say, chicken nuggets. And even the perception that it's not McDonald's is likely to play better with health-conscious parents.
Frozen yogurt burst on the national scene in the 1980s, led by soft-serve pioneer TCBY. Its latest resurgence began about 10 years ago, when chains such as Pinkberry, Yogurtland and Menchie's — all founded between 2005 and 2007 in the Los Angeles area — found an untapped appetite in the market and rapidly expanded, rolling out innovations like mix-and-match, pay-by-weight portions, and a wider variety of toppings, including condensed milk and Japanese mochi balls.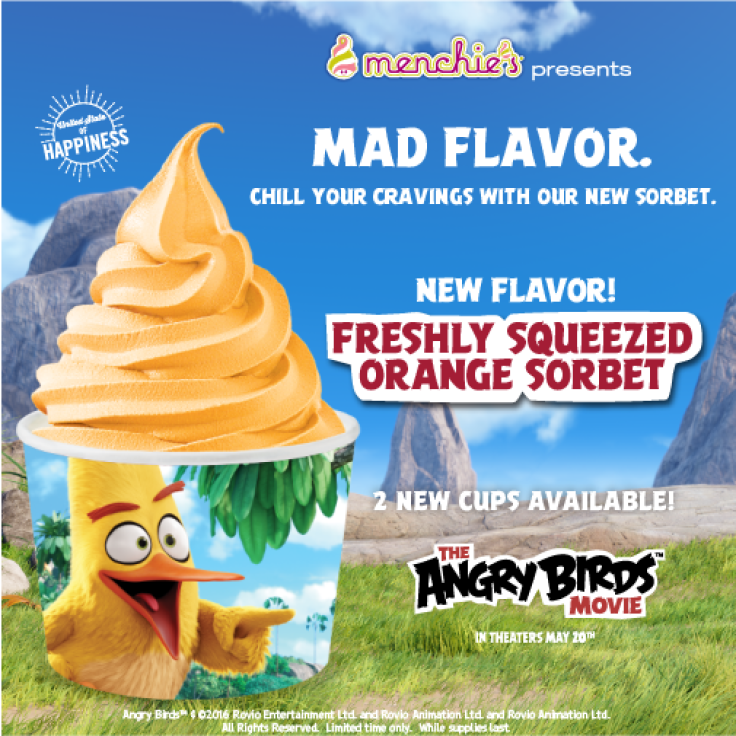 Menchie's is now the largest self-serve frozen yogurt chain, with 524 locations around the world — and plenty of them are in higher-income neighborhoods where parents will take the kids out for frozen yogurt. The company approached Sony about joining forces, CEO Amit Kleinberger told IBT.
"The 'Angry Birds' movie is a lighthearted animated film aimed to entertain all ages, which pairs seamlessly with our target audience — families," he said. "We saw this as a fun opportunity to further promote our mission to spread smiles across the globe."
Kleinberger said Menchie's developed the flavors and worked with Sony to match them to individual "Angry Birds" characters. And most critically for parents, Menchie's is on the healthier end of the spectrum as far as kid-friendly treats go. The new Strawberry Smoothie Sorbet flavor, for example, is nonfat, gluten-free and packs only 100 calories in a half-cup serving — compared with more than 500 in a Big Mac. Sweet Strawberry Greek, one of the June flavors, is made with active yogurt cultures. Both have at least 17 grams of sugar, but that's still less than half of what's in a can of soda.
That's why, Rothstein said, it's an easier sell for the typical suburban kid to get his parents to take him for Menchie's than chicken nuggets. And since there's a decent overlap between parents who take their kids out for frozen yogurt and those who take them to the movies, he said the soft-serve crowd is an increasingly tasty target for studios.
"Parents that have more disposable income would much rather see their kids eat frozen yogurt instead of a Big Mac," Rothstein said. "Something like this is a win-win-win. A win for the parents, win for the kids, and certainly a win for the franchise."
© Copyright IBTimes 2023. All rights reserved.