Why 'Bachelor' Couple Nick Viall, Vanessa Grimaldi Haven't Watched Rachel Lindsay's 'Bachelorette'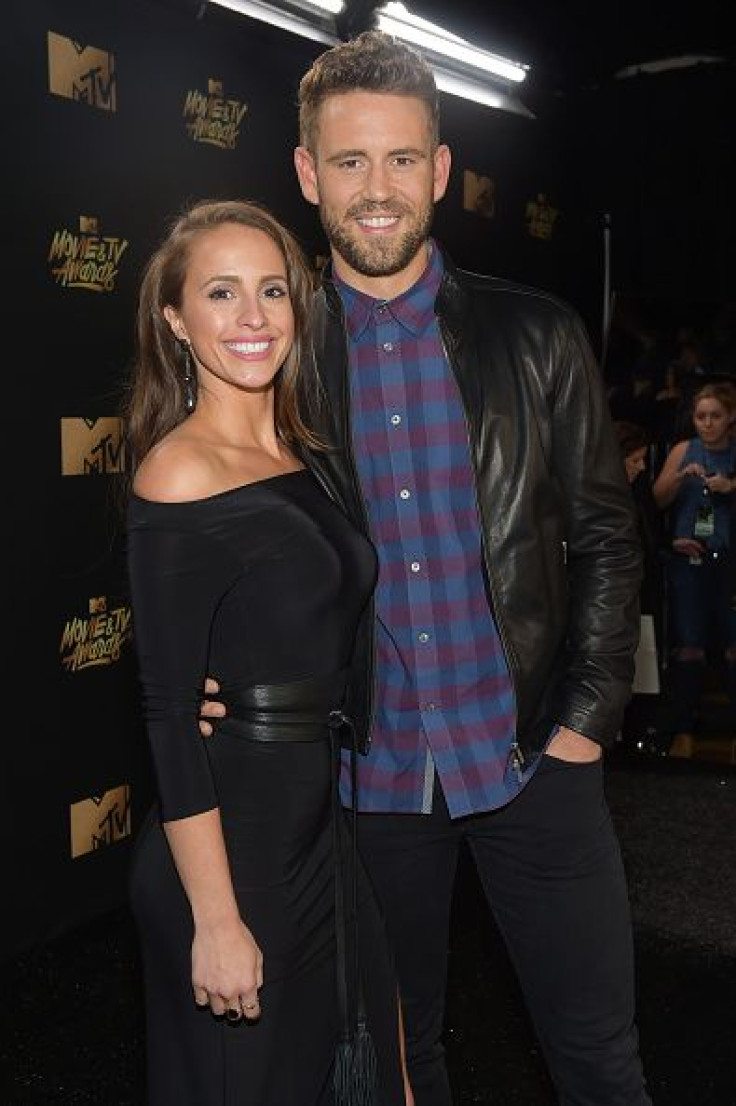 "Bachelor" couple Nick Viall and Vanessa Grimaldi may have not been keeping up with the latest season of "The Bachelorette," but they have some tips for Rachel Lindsay on maintaining a relationship with her chosen man after the reality show.
Viall and Grimaldi recently attended Clayton and Ellen Kershaw's 5th Annual Ping Pong 4 Purpose charity event for their organization, Kershaw's Challenge, in Los Angeles, where they were asked for updates on their life as an engaged couple by Entertainment Tonight. During the red carpet interview, Viall and his fiancée opened up about moving in together and why they have yet to watch the new "Bachelorette."
"It's great," Viall told ET's Lauren Zima on Thursday when asked what it's been like living together with Grimaldi.
READ: Who Does Rachel Lindsay Choose On 'The Bachelorette'? 2017 Finale Spoilers
The founder of The Polished Gent and his fiancée moved into an apartment together in downtown Los Angeles in June. And though it's only been a month since they started living together, the couple already have a few common hobbies that they like to do around the house. One of these shared interests is cooking, which Grimaldi says she and her fiancé "both enjoy."
"I like to cook but I wouldn't say that I cook all of the time or equally as good," Viall explained.
When asked which guy they were rooting for in the latest season of "The Bachelorette," Viall confessed: "I haven't seen it . We've just been very busy, you know, I think decompressing off of last season."
This does not come as a surprise as Viall has filmed back-to-back reality shows over the past several months. After "The Bachelor" Season 21 wrapped, he joined the cast of "Dancing With the Stars" Season 24. But while he has yet to catch up with her season, Viall said that he wishes Lindsay nothing but the best. "But we hear that she's engaged so, that's awesome," he said. "I'm very happy for her. Whoever that is, she made the right call, because she made it for herself."
READ: Chris Harrison On 'Bachelor In Paradise' Scandal: 'We Learned From Our Mistakes'
As for what advice they can give to her in order to keep the romance alive post-"Bachelorette," Viall and Grimaldi said that it is important that Lindsay and her fiancé get to know each other away from the public eye. "Just take things slow," Viall said, to which Grimaldi agreed.
"Get to know each other outside of 'Bachelor' world," she added.
One show they won't be missing, however, is "Bachelor in Paradise," which returns to ABC for Season 4 on Aug. 14. "I will definitely be watching," Viall said. "I took a little time off, but how can anyone miss 'Paradise'?"
He also commented on the scandal involving cast members DeMario Jackson and Corinne Olympios that forced ABC to halt the production of "Bachelor in Paradise" last month. "It sounds like they did the right thing by investigating whatever it was [that went down]," he shared. "But ultimately it sounds like more things got blown out of proportion because of the media than what actually happened. It's just good to see that it's back."
Meanwhile, Lindsay will soon choose the man she wants to marry among Bryan Abasolo, Eric Bigger and Peter Kraus. Ahead of the Season 13 finale, she hinted that she will pick someone who shares her goals and interests. "I want somebody who wants what I want AND wants it with me. Stay tuned to see who I found that w/ on the finale," she tweeted Monday.
"The Bachelorette" Season 13 finale will air on Monday, Aug. 7 on ABC.
© Copyright IBTimes 2022. All rights reserved.
FOLLOW MORE IBT NEWS ON THE BELOW CHANNELS