Why Chinese Tourists Are Boycotting Maldives Over Instant Noodles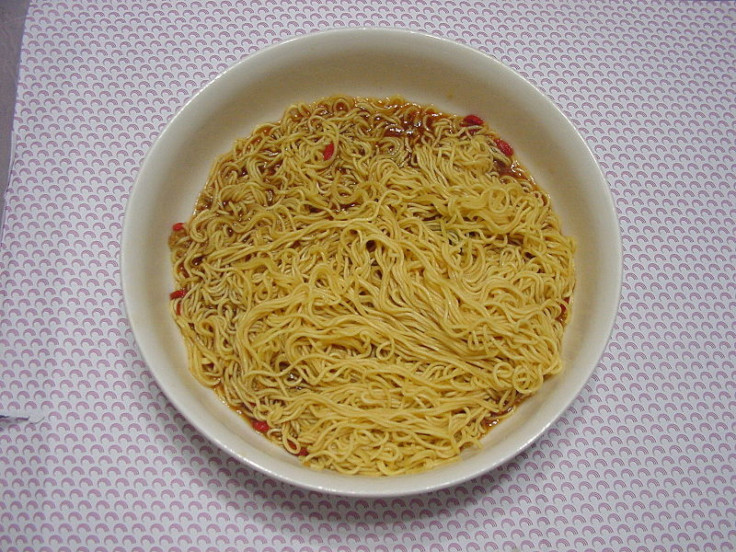 Behold the power of Chinese social media: Just days after a blogger posted his dissatisfaction with a resort in the Maldives that allegedly denied kettles to Chinese tourists for fear they would cook up instant noodles in their rooms, nearly 100,000 Chinese people have reposted the rant and demanded that their fellow citizens boycott the Indian Ocean nation.
According to the article posted on the popular message forum Tianya by a former manager of the upscale Beach House Iruveli, the staff of the hotel was ordered to treat Chinese guests differently and even referred to them in bookings as CN -- not for "Chinese" but for "cup noodle."
The Chinese population consumes some 42.5 billion packages of instant noodles each year. A cup of instant noodles is such a staple of the Chinese diet that airports and train cars are often equipped with hot water fountains where travelers can fix themselves a meal on the run.
But domestic travel habits emulated in the greater world have become somewhat of an embarrassment for the Chinese government.
As international travel booms, officials regularly issue advice to citizens on the practices of so-called "civilized tourism." Tips include: Don't spit on the ground. Don't cut in line. Don't talk too loud or travel in huge groups.
Asking Chinese people not to eat their beloved cup of noodles, however, may be going too far.
Zhao Jianke, who said he was a guest service manager at Beach House Iruveli until he was unjustly fired in February along with four fellow Chinese workers, claimed Chinese guests at his former hotel paid the same price as Europeans but did not receive the same service. Kettles and the attendant tea and coffee, he noted, were specifically removed from rooms occupied by Chinese tourists, because the management claimed the guests would not eat at the resort's restaurant and instead cook instant noodles.
"We employees watched our compatriots suffer unfair treatment but could do nothing," Mr. Zhao lamented in his lengthy article, posted to both Tianya and the website of a popular travel company. By Sunday, his account of both personal discrimination and discrimination against fellow Chinese people had been forwarded nearly 100,000 times.
Now, an angered public is demanding that the hotel apologize. If they don't, many say they will encourage their fellow citizens to boycott the Maldives altogether.
A representative for the Beach House Collection called the accusations not only untrue but "defamatory."
"The Chinese market is very important for us and are always warmly welcomed to the Beach House Iruveli," spokesperson Haydee Cruz said.
The hotel noted that it did remove some damaged kettles from rooms as part of routine maintenance due to the fact that the kettles were damaged by guests who used them to cook food. Cruz added that five Chinese staff members "resigned on their own accord on Feb. 18" and said the hotel group's legal representatives "have been engaged."
"We continue to operate a dedicated staff of Chinese Villa Hosts at the resort who are solely responsible for looking after the specific needs of our Chinese guests. Our resident Chinese staff are happy and fulfilling their duties as per the high standards of the resort and guest expectations."
Cruz said the hotel has received no guest complaints regarding discrimination, but that hasn't stopped the uproar back in the People's Republic.
China represents the Maldives' largest source country of foreign tourists, and, according to local media reports, some Beijing-based travel agencies have already canceled future trips to the paradisiacal islands.
But this is nothing new. Uproar on social media over mistreated Chinese tourists has become quite common in the past few years as Chinese tourists travel abroad in record numbers.
The U.N. World Tourism Organization estimates that by 2015, 100 million Chinese citizens will travel outside of the country. What that means is that in less than three years, China will become the single-largest source of international tourism while simultaneously possessing the largest domestic tourism market in the world -- and the industry, as a whole, is poorly prepared for the shift.
Roy Graff, founder and managing director of China Contact, told the IBTimes in October that Japanese travelers compelled hotels to offer more rooms with twin beds or provide baths instead of showers, but the Chinese have their own unique travel habits that many hotels have been slow to adopt.
"There are certain amenities they will expect in their room," Graff noted, "such as slippers, a kettle to make tea, instant noodles and chopsticks." They also expect a breakfast menu that has less cheese Danish and more meat and congee.
And these are just the basics, Graff said. If a hotel really wants to attract Chinese customers, it needs to offer a Chinese-language TV channel and have printed information such as maps and brochures in simplified Chinese. If it's a larger hotel, there should be someone on staff who can speak Mandarin.
Even if the tourists don't eat in the restaurant, Chinese travelers spend nearly $2,000 more than the average international tourist, according to U.S. Department of Commerce estimates, thanks to their ferocious appetite for luxury goods. Hotels that fail to realize these things (and alienate Chinese tourists in the process) will have a rough time in the coming years.
© Copyright IBTimes 2023. All rights reserved.