Why Chrissy Teigen Spoke To Therapist About Khloe Kardashian Photoshop Scandal
KEY POINTS
Chrissy Teigen said Khloe Kardashian's photoshop scandal affected her own body image
Teigen understood where Kardashian was coming from but was also "frustrated" with how the situation was handled
Kardashian asked for an unedited bikini photo of herself to be removed from the internet earlier this month
Chrissy Teigen got candid on how Khloe Kardashian's photoshop scandal hurt her own body image.
Earlier this month, the "Keeping Up With the Kardashians" star made headlines when she asked for a leaked, unedited photo of herself to be removed from the internet. Teigen, 35, admitted during her appearance on "Watch What Happens Live With Andy Cohen" Tuesday that it affected her to the point where she brought it up to her therapist.
"I went, like, a million different ways [with] it," Teigen was quoted by Us Weekly as saying. "I actually ended up talking about it in therapy, oddly enough, because of my own body insecurity issues and what celebrities have done to people in distorting their image of what a real human body looks like."
While Kardashian succeeded in having the unfiltered bikini photo taken down eventually, fans and netizens praised the reality star, saying she looked beautiful. However, Kardashian, who has admitted to struggling with body image for years, stressed that it is her right to decide what picture she wants or does not want to share.
"Hey guys, this is me and my body unretouched and unfiltered," she shared on Instagram. "The photo that was posted this week was beautiful. But as someone who has struggled with body image her whole life, when someone takes a photo of you that isn't flattering in bad lighting or doesn't capture your body the way it is after working so hard to get it to this point — and then shares it to the world — you should have every right to ask for it not to be shared — no matter who you are."
Teigen said she understood where the "Revenge Body" star was coming from but was also "frustrated" with how the situation was handled.
"You get frustrated because you look at Khloé and, of course, you're like, 'You're so beautiful. You're so strong.' And the change that she's made to her body, she's so proud of and everybody's so proud of. And you want someone to be like, 'F—k yes, this is my body in any light,'" the model added.
During the interview, Teigen also spoke about her friendship with Meghan Markle. She has nothing but kind words to say about the duchess after the latter reached out to her after she lost her son, Jack, in September last year.
"Yeah, she's been so kind to me ever since we connected," Teigen said. "She had written me about baby Jack.... but yeah she is really wonderful and so kind — just as kind as everyone says she is."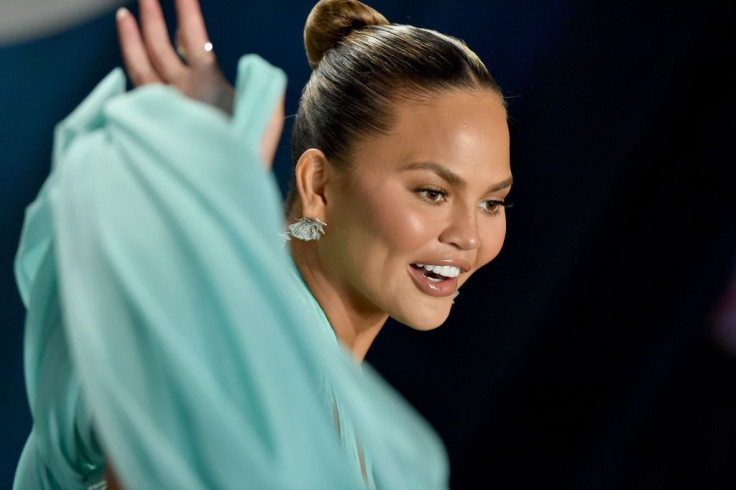 © Copyright IBTimes 2023. All rights reserved.