Why Insurers Are Reducing Coverage In Florida, California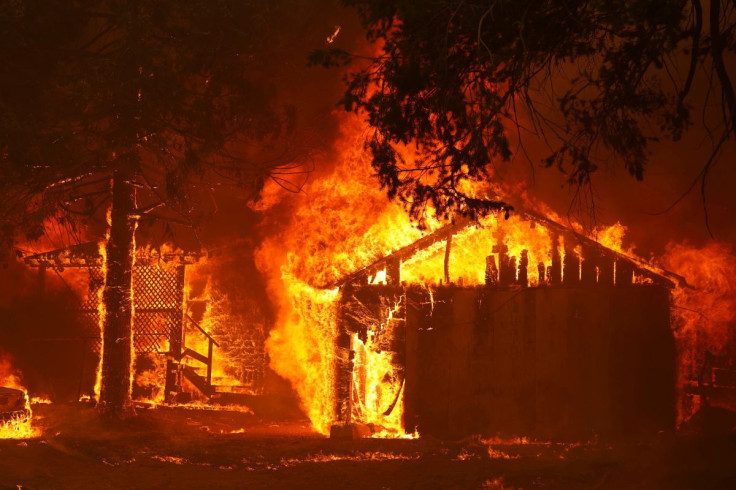 KEY POINTS
The cost of insuring homes in California and Florida is pushing some insurers out
Allstate says it will pay out $4.3 billion in claims through six months of 2023, more than it would in an entire year
Climate observers say 2023's decisions represent a turning point for insurance companies and homeowners
The insurance industry is becoming increasingly sensitive to the effects of climate change on their businesses. Some insurers are reducing coverage or new policies in California and Florida. This raises difficult questions about the future of doing business in certain regions of the United States, too.
Numerous climate alarm bells rang in the summer of 2023 as the Northern Hemisphere wilted from heat and dealt with magnified storms. On Tuesday, the World Meteorological Association declared July 2023 was the "hottest month ever recorded," after heat made headlines all summer.
With summer winding down, the concern now rises as hurricane season in the Southeast and fire season in the West ramp up. On Thursday, the National Oceanic and Atmospheric Administration said the Atlantic hurricane season would be "above normal" due to record-warm sea surface temperatures.
In response to repeated risks and unsustainable losses, the insurance industry is continuing to reduce coverage in certain regions of the U.S. due to the untenably high cost of doing business there.
Industry leaders like The Allstate Corp. (NYSE: ALL), Farmers and State Farm Mutual Automobile Insurance Co. are all dialing back the amount of coverage they offer in California and Florida. Climate observers say insurers are likely considering pullbacks in Texas, Louisiana and other coastal regions of the U.S.
In an email to International Business Times, April Eaton, Allstate's senior manager of catastrophe and climate communication, said the Northbrook, Ill.-based insurer "paused" new homeowners and condominium insurance policies in California in 2022 to "continue to protect current customers."
"The cost to insure new home customers in California is far higher than the price they would pay for policies due to wildfires, higher costs for repairing homes, and higher reinsurance premiums," Eaton told IBT.
Allstate is paying out large sums to keep up with changing weather patterns. Eaton said in 2022, Allstate paid out $3.1 billion to support customers dealing with 124 natural catastrophes.
"In the first half of this year alone, we supported customers through 70 catastrophes and expect to pay them $4.3 billion in their recovery," Eaton told IBT. "That's more than a typical year's worth of catastrophe losses in six months."
Representatives of State Farm and Farmers did not immediately respond to a request for comment from IBT. Farmers has not published a release on the subject, but various media reports say the company is dialing back coverage in Florida by refusing to renew nearly a third of its policies in the Sunshine State.
On May 27, State Farm began to "cease accepting new applications including all business and personal lines property and casualty" insurance in California. In a release at the time, State Farm said its "necessary to take these actions now to improve the company's financial strength."
In its latest quarterly filing with the Securities and Exchange Commission published on Aug. 1, Allstate said it is "no longer writing new homeowners business in California and Florida."
"Policy growth is being reduced in states and lines of business that are underperforming," Allstate said in the filing. "We may take further actions to reduce our exposure, which have and will continue to negatively impact premiums."
In an interview, Janet Ruiz, director of strategic communications for the industry association Insurance Information Institute Inc., said the insurance industry sees the climate changing with more extreme weather patterns causing more extreme losses.
At the same time, she told IBT, the industry deals with unique challenges. Inflation of home prices and building materials in the past five years means the cost of rebuilding has increased significantly. So has the cost of reinsurance, or the insurance used by insurance companies.
In the last six years, Ruiz said, California — the fourth largest insurance market in the world — lost 20 years of underwriting profit in the homeowners insurance business due to wildfire losses.
Despite this, the insurance industry does not necessarily want to leave California, but the high cost of doing business there along with certain state policies make it difficult to stay. An insurance law passed in 1988, Ruiz said, keeps insurance premium prices artificially low in California.
As for Florida, the insurance industry deals with what she called litigation abuse along with growing climate risks.
In an interview, Rachel Cleetus, policy director for the Union of Concerned Scientists' climate and energy program, said the number of climate related insurance claims made by both homeowners and businesses will only accelerate as climate change continues to charge up natural disasters.
The insurance pullback climate experts have predicted for years is coming to pass in 2023, Cleetus said. When one insurer exits the market, more will follow. It's the poorest citizens of the states who can no longer afford insurance and the taxpayers who will suffer the most when property is damaged.
Additionally, more people will turn to publicly backed insurers of last resort. When those plans pay out, she said, the government will ultimately pick up the tab rather than an insurance company.
Cleetus took issue with how insurance companies reduce coverage offerings for properties and businesses while they continue to underwrite fossil fuel projects.
Rob Moore, a senior policy analyst with the Natural Resource Defense Council, said 2023 is going down in history as the year everything changed in regards to housing insurance and the climate.
Moore said he believes similar problems will begin to appear in other regions of the country, particularly the coastal states of Texas and Louisiana. However, this private insurance reduction is a national problem, too, since many people go on either a state-run or a national insurance plan.
Already, Moore said, the Federal Emergency Management Agency's National Flood Insurance Program is already paying out more in claims than it takes in premiums -- and has been for years. He said Congress asks FEMA to run a program in the black, to charge prices based on actual flood risk but not to charge too much of a premium, which keeps the problem going.
Finally, FEMA's flood mapping plays a role in new development in flood prone areas. When certain areas are outside of a flood zone, as determined by FEMA, they can be developed. However, the flood zone areas haven't been redefined since the 1970s and every year the climate realties show the weather of the past is no longer the weather of the future.
NRDC, he said, is pushing for a policy that would update flood zone areas and make it harder to build new developments in flood prone areas. For now, Moore told IBT, the issue of insurance and insurability is going to keep raising the already ballooning cost of home ownership.
"This is going to spread. Today we're focused on the problems of Florida, California, Louisiana and a couple of other states, but this is something the entire Southeast I think will be eventually caught up in," Moore said. "This is something that's going to come to other parts of the country as climate-driven disasters become more frequent."
© Copyright IBTimes 2023. All rights reserved.