Why Kate Middleton, Meghan Markle Confer With Queen Elizabeth About Attire Before Joint Appearances
They are all always impeccably dressed during their public engagements, but it appears that Kate Middleton and Meghan Markle usually go one extra step during certain appearances to make sure their outfits are approved.
According to Yahoo's "The Royal Box," both the Duchess of Cambridge and Duchess of Sussex swap notes with Queen Elizabeth on their outfit choices before they ever head out for a joint engagement with her.
"It's quite normal for a private assistant of to Kate to check in with the Queen's private secretary and find out what she's wearing so you don't clash or sort of take the color that she's picked to wear that day," Omid Scobie said during an episode of the series.
Notably, royal engagements that the two women have been on with their grandmother-in-law have seen them usually opting for neutral shades that seem to compliment the Queen's bright hues, with Markle opting for a cream-colored dress while the Queen opted for lime green during their first joint engagement in Cheshire last year, while a recent joint engagement at King's College London saw Middleton choosing a grey ensemble wot offset the Queen's own pale pink outfit.
The fashion choices the royal family makes for these outings have often made news and grabbed headlines, with the fact that the Queen, Middleton, Camilla Parker Bowles and Melania Trump all wore white for a state dinner in honor of Trump and her husband, President Donald Trump. Similarly, on the first day of Ascot in June, the Queen, Middleton, Princesses Beatrice and Eugenie and Zara Tindall all wore different shades of blue.
The women may also coordinate with the Queen in an attempt to avoid some bad publicity, something that Parker Bowles has gotten even as recently as Commonwealth Day back in March when her dress seemed to match the same shade as the Queen's.
Still, even if they do check with the Queen before joint engagements, at least when it comes to Markle, she may not need to worry about clashing. It's been noted that she often seems to opt for monochromatic hues with her attire, and the reason is believed that she prefers to take the attention away from herself and instead wants the focus to be on a charity she may be promoting.
"It is a safer way to ensure things that want her support will get more prominence. By choosing to wear black, Meghan ensures the outfit stays out of the limelight and gives more publicity to the cause," royal expert Richard Fitzwilliams said.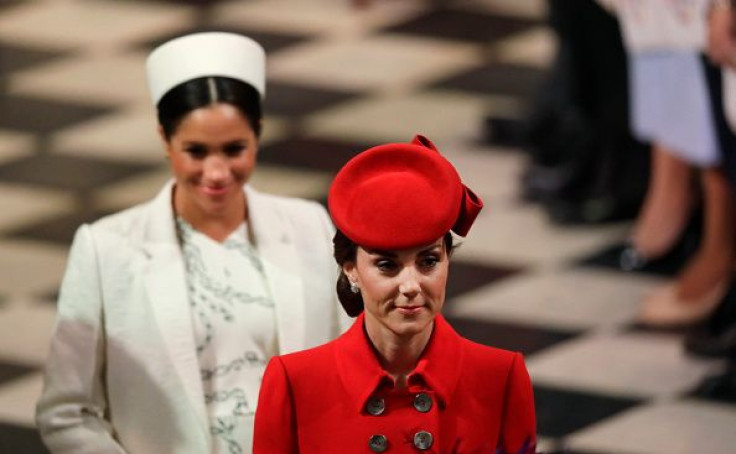 © Copyright IBTimes 2023. All rights reserved.