Why Princess Charlotte Really Pulled Shock Move At Sailing Regatta
Everyone, including her mother, Kate Middleton, appeared stunned when Princess Charlotte seemed to playfully stick her tongue out at well-wishers and royal fans during the recent King's Cup regatta. However, a new report claims there was a very good reason for the young Princess making such a shock move.
According to Hello! Magazine, the young Princess decided to stick her tongue out at the crowds when she was encouraged to wave, and when she made the funny face, it took her mother by surprise as she laughed and ushered her away. However, it turns out little Charlotte wasn't doing it directly to the crowd but was instead focusing the gesture towards her grandfather, Michael Middleton, who was in the crowd as well.
The publication reports that the Duchess of Cambridge showed her children the familiar faces in the crowd of their grandparents as a means of keeping them calm before they took their places in front of the stage for the prize ceremony. When she then pointed at her own father, Charlotte was allegedly delighted to see her grandfather, which led to the moment that has made headlines, and seems to give insight into the pair's relationship.
However, even if the moment was well-intentioned good fun towards her grandfather, there have been reports that the Duchess of Cambridge—as well as her mother, Carole Middleton, weren't quite as pleased with the behavior.
While Middleton did laugh, it's been reported that she wasn't pleased Charlotte had picked up the habit of sticking her tongue out from her uncle, Prince Harry. Meanwhile, Charlotte's grandmother seemed less than enthused, according to body language expert Judi James.
"It's known to be cheeky and a little bit naughty but once a parent has laughed in the way Kate does here the child will learn that it amuses adults and will probably continue to do it," James said. "It allows the child to be a little bit shocking but also funny at the same time and that in turn can make them feel a bit more grown-up. Kate's reaction is hilarious here and probably totally appropriate for the moment, although Grandma Carole looks as though she might be thinking of nipping this playful naughtiness in the bud."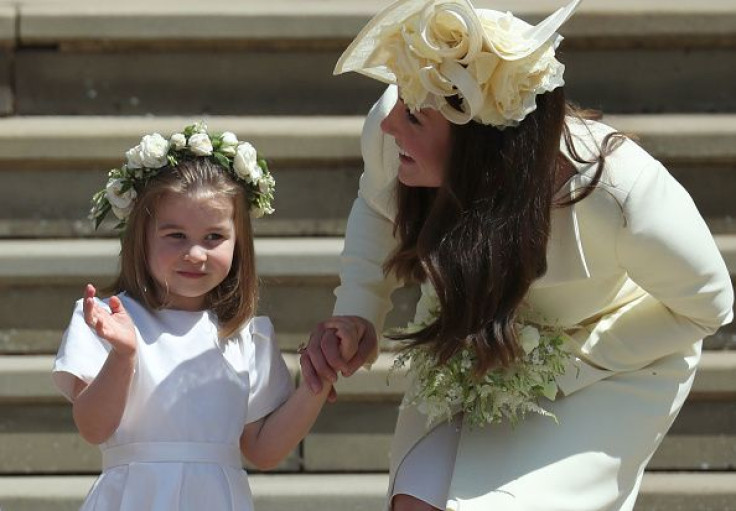 © Copyright IBTimes 2023. All rights reserved.