Why Queen Elizabeth Was Happier At Prince Andrew, Fergie's Wedding Than Charles, Diana's
Queen Elizabeth was present at Prince Charles and Princess Diana's royal wedding, as well as Prince Andrew and Sarah Ferguson's nuptials.
According to body language expert Judi James, Her Majesty was happier at one of the two royal couple's wedding. While speaking with Express, James said that that the wedding of the Duke and Duchess of York was much more fun even than the wedding of the Prince and Princess of Wales.
"It's true to say that Andrew and Sarah's wedding was a much more fun even than Charles and Diana's, which seemed frosted by tension, both between the bride and groom, with Camilla sitting in the pews behind them and worries about Diana's father who had been very unwell just prior to the day. Some of that tension does seem to be reflected in the Queen's body language, which looks more restrained and formal than it did at Andrew's wedding," she said.
According to James, the Queen's lips appeared to be pursed in one pose but she is also smiling down at the crowds in another, which suggests that is happy and proud.
"At Andrew's wedding, she used a very similar handclasp, with the upper hand clasping the wrist, but the grin on her face was wider and looks more congruent. She beams happily down at the crowds as she waves, while her two sons and her mother seem to be laughing and joking together," James said.
Meanwhile, James also talked about the Queen's relationship with her daughters-in-law during their respective weddings. She said that the Princess of Wales and the Queen showed some very powerful mirrored body language in front of their poses. It also seemed as though Princess Diana was trying to mimic the Queen out of love and respect.
With Ferguson, there is no mirroring. She did her own poses and she didn't also have any rapport with Her Majesty, unlike Prince Charles' wife.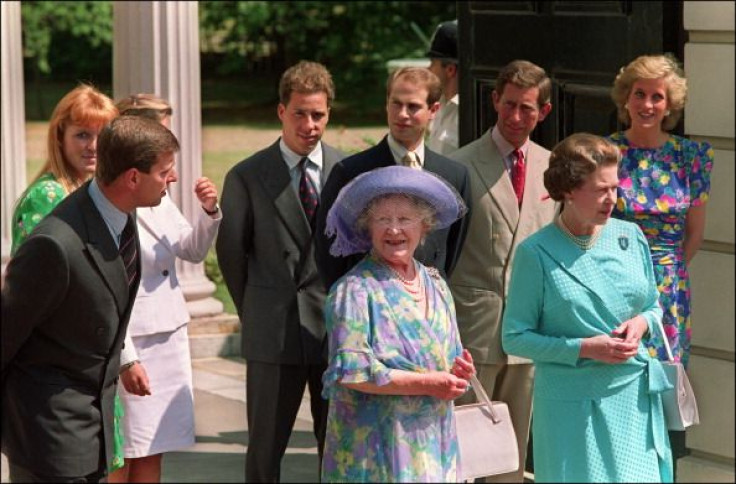 © Copyright IBTimes 2023. All rights reserved.