Will Carly Fiorina Be Invited To Saturday's GOP Debate? Romney, Gingrich, Kelly Ayotte Support Former CEO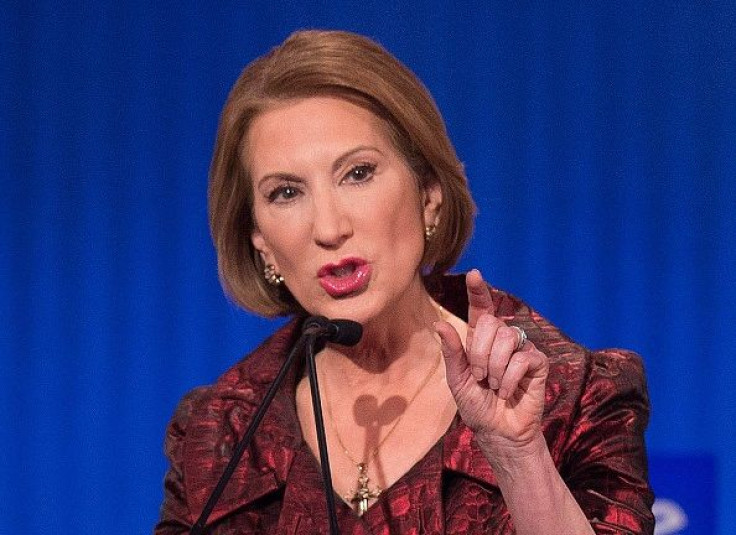 UPDATE: 7:22 p.m. EST — Carly Fiorina will not be included in Saturday's Republican debate, ABC News announced Thursday afternoon. The debate, whic h is the last one before Tuesday's New Hampshire primary, will include all seven other GOP candidates left in the race. Fiorina had been pushing ABC News and the Republican National Committee to include her in the showdown, but the network decided not to change its previously announced rules to include the former Hewlett-Packard CEO.
Original story:
Several prominent Republicans backed Fiorina's call on Thursday to be included in Saturday's GOP debate, the last meeting of candidates before Tuesday's New Hampshire primary.
After ABC News announced last week that it would not offer an undercard stage at its Manchester, New Hampshire, event, Fiorina released a letter Wednesday urging the Republican National Committee (RNC) to allow her participation. Former Republican presidential candidate Mitt Romney, former House Speaker Newt Gingrich, Sen. Kelly Ayotte and Sen. Ben Sasse all took to Twitter to support Fiorina's cause.
Saturday's event will be the first GOP debate this cycle not to include an undercard event for the lowest-polling candidates. Fiorina appeared on the main stage for some of the Republican debates last fall, but as she has dropped in the polls over the past several months, she has more recently competed in the "happy hour" debates.
"Our debate process is broken," Fiorina said in her letter to the RNC. "Networks are making up these debate rules as they go along — not to be able to fit candidates on the stage — but arbitrarily to decide which candidates make for the best TV in their opinion."
To participate in the ABC News debate, candidates must either place among the top three candidates in the Iowa caucuses, the top six in an average of New Hampshire polls, or the top six in an average of national polls. Polls must have been conducted after Jan. 1 and must be released to the public by 5 p.m. EST on Thursday, ABC News said last week.
Using that criteria, Fiorina will be the only GOP candidate — other than Jim Gilmore — not on the debate stage after Kentucky Sen. Rand Paul and former Sen. Rick Santorum dropped out of the race Wednesday. Fiorina received just under 2 percent of the vote in the Iowa caucuses and currently stands in seventh place in New Hampshire and eighth place nationally, according to the Real Clear Politics average of polls.
In her letter to the RNC, which is hosting Saturday's debate with ABC News, Fiorina argued that all eight GOP candidates got to participate in a debate after the 2012 Iowa caucuses. She also pointed out that she came in above New Jersey Gov. Chris Christie and Ohio Gov. John Kasich in Iowa.
Fiorina thanked the Republicans expressing support for her on Twitter and continued to call for the RNC and ABC News to change their criteria. If she is allowed in the debate Saturday, this would be the second time a network changed its criteria to allow Fiorina onstage. In September, CNN amended its rules to include her in its prime-time debate after a strong performance in the first GOP debate in August.
© Copyright IBTimes 2023. All rights reserved.