Will Casey Affleck Present At This Year's Oscars? Petition Hopes To Prevent It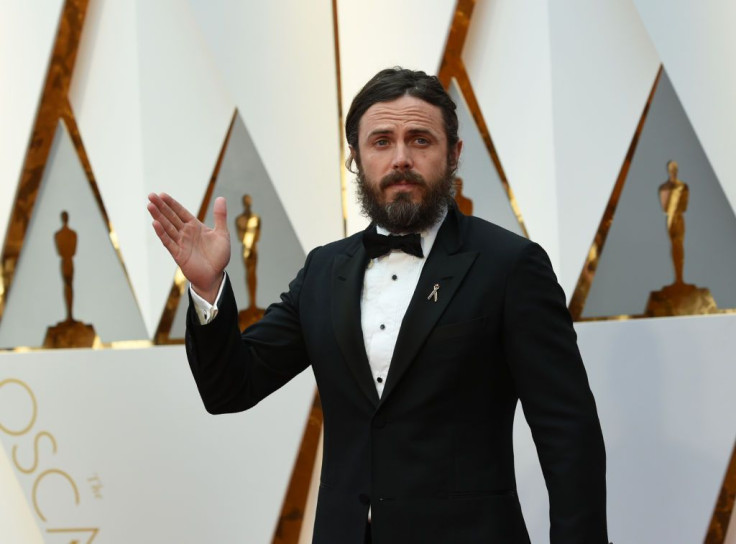 UPDATE: Jan. 25, 3:29 p.m. EST — Casey Affleck will not present the best actress award at the 2018 Oscars. The Hollywood Reporter announced the actor has withdrawn from this year's Academy Award ceremony.
Original Story: Casey Affleck is not welcome at the 2018 Oscars, this is according to the more than 19,000 signatures found on an online petition demanding The Academy disinvite the actor from this year's award ceremony.
Affleck was sued for sexual harassment in 2010 after he directed the film "I'm Still Here," following the life of Joaquin Phoenix who was ready to step away from his acting career to become a hip-hop artist.
Although the actor has said he is "over" the allegations, Hollywood and outsiders looking in have not forgotten Affleck's past and do not believe he should be awarded for his behavior.
Director Cameron Bossert created the petition on Change.org in October 2017 as a way to support the sexual harassment victims in Tinseltown. In the last few months, many people have come forward and shared their stories about the inappropriate behavior displayed by Hollywood's elite. Some of who would go unreprimanded, until recently.
Bossert believes that Affleck, who won the Academy Award for best actor in 2017 for his role in "Manchester by the Sea," doesn't deserve to continue an Oscars tradition.
The custom requires winners of the best actor and actress category to return to the ceremony the following year to present the award to the new winner in the opposite gender's category.
At Variety's Inclusion Summit in November, Academy CEO Dawn Hudson was asked whether any thought had been given about allowing Affleck to carry on the Oscars tradition. "We're giving thought to all of this," she revealed at the time.
Affleck's controversy dates back to 2010 when two women filed a suit against the actor with one woman asking for $2 million and the other requesting $2.25 million. The lawsuits were settled out of court.
In 2016, the actor told the New York Times that he has moved on from that time in his life. "It was settled to the satisfaction of all. I was hurt and upset—I am sure all were—but I am over it," he stated in an email.
Now, like Bossert, plenty of people on the web are sharing his same sentiment against Affleck, as well as other actors, being awarded for their work following sexual harassment allegations.
"Elite men accused of abusing women have not only repeatedly gotten away with it – they've been praised for their work, given awards, and offered new jobs. Men such as Woody Allen, Casey Affleck, Johnny Depp, Bill Cosby, and Harvey Weinstein," reads one public tweet.
Another person noted that some people in Hollywood receive more privileges over others. "Maybe he [James Franco] is the Casey Affleck of this year, in Hollywood, as long as you're white, they still give you an award for it," he wrote.
The Academy has yet to make an announcement regarding Affleck's invitation to present during this year's award show.
© Copyright IBTimes 2023. All rights reserved.