Will Donald Trump Repeal Obama's Immigration Reform, DACA? Immigrants Fear The Worst In Next White House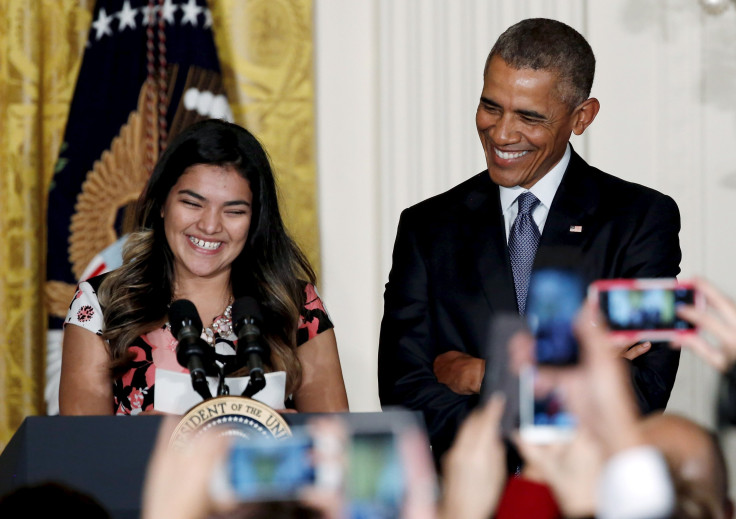 Before Donald Trump was elected the next president of the United States, Reynaldo Zamora and Leanne Zinn were planning an intimate, detail-oriented destination wedding. The couple wanted to host the ceremony of their dreams, a night both had planned for their entire lives, complete with family and friends from across the country. Zamora's siblings, who live in Nicaragua, were planning on making the trip.
After Trump was announced the official president-elect, however, the couple has resorted to planning a rushed courthouse marriage, in an effort to seal the deal before the Republican billionaire takes office. That's because Zamora, a immigrant who legally moved from Nicaragua to the United States at five-years-old, could face deportation under a Trump administration unless he pursues permanent resident status by marrying his fiance. Whereas the pair were planning on a lengthy engagement after two years of dating, the couple is now expecting to tie the knot before Inauguration Day on Jan. 20.
"Time is of the essence," Zinn told International Business Times. "We actually have to have a courthouse wedding, which is fine and all, but hardly the romance we dreamed about. Everyone we love – people that we've fantasized about our wedding with – are like 'go, go, go! Just go tomorrow. Do it.' It feels like the Twilight Zone. It's unnerving."
Thousands of young immigrants, both legal and undocumented, as well as DACA recipients across the nation are readjusting their life plans after last week's Election Day results. Trump vowed on the campaign trail to repeal President Barack Obama's key immigration policies, including the Deferred Action for Childhood Arrivals program, which extends certain benefits for immigrants who traveled to the U.S. before the age of 16. The legislation provides a renewable two-year work permit for approved applicants, as well as exemption from deportation.
At least 665,000 people who applied for DACA have been approved since the reform was introduced in 2012, when Obama called on undocumented youth to "come out of the shadows and get right with the law." His reforms became synonymous with the Dreamers movement, which calls for a pathway to citizenship for undocumented immigrants who traveled to the states as children.
DACA recipients like Zamora are able to apply for drivers licenses, receive in-state tuition for public universities, apply for a credit card, obtain a social security card and legally pursue employment. But if the program is struck down, those immigrants would go back to having few legal rights.
"I'm baffled when people say that undocumented people 'mooch off the government,'" Zinn said. "Reynaldo, who's been here legally since age 5, can't even fill out a form for financial aid."
Trump, who has pledged to immediately deport 3 million undocumented immigrants, has suggested childhood immigrants receive advantages over the American youth, and not enough of an investment has been made on children born in the U.S. compared to those immigrating with families from other countries.
"I want dreamers to come from the United States. I want the people in the United States that have children, I want them to have dreams, also," Trump said at a press conference in February. "We're always talking about dreamers for other people. I want the children that are growing up in the United States to be dreamers, also. They're not dreaming right now."
Trump's policy ideas and rhetoric toward immigration reform has prompted organizations and immigrants alike to rethink their paths forward.
Under Obama, the National Immigration Law Center encouraged all eligible immigrants to apply for the White House's series of immigration reforms. Now, the organization is recommending immigrants eligible to apply for DACA for the first time abstain from the process entirely. Since DACA applications typically take three months to process, the National Immigration Law Center says applying right away wouldn't provide a stamp of approval from the Obama administration, but instead deliver identifying-information to a Trump White House.
"Generally speaking we think it's best to hold off on applying for the first time right now," Ignacia Rodriguez, policy advocate for the National Immigration Law Center, told IBT. "They have to weigh the risks and benefits involved. Because there's so much uncertainty for what comes next, those applying have a higher risk for presenting information to immigration authorities that could be used against them."
Trump kicked off his campaign describing the majority of Mexican immigrants as rapists and criminals and repeatedly vowed to build a "big, beautiful wall" paid for by the Mexican government. He has suggested a U.S. judge would be unable to provide a fair trial due to his Mexican heritage. Most recently, the president-elect vowed Sunday to deport up to three million undocumented immigrants, especially if they're considered criminals or have in some way violated U.S. law. As Trump prepares to take on the White House, DACA recipients are beginning to fear the worst.
"We're concerned because we're not sure where [Trump] is getting that three million number from. Right now, we're preparing for all of the possible what-ifs," Rodriguez continued. "We do see a real threat to DACA based on what Trump has said throughout his campaign. But we also see a real movement and energy from DACA recipients and allies to stop a threat from becoming action. We've been getting calls from educators, city officials, community members and citizens asking what they can do to prevent anything harming DACA recipients and groups he attacked along the campaign trail."
Initial nationwide surveys detail the positive impact DACA has had on recipients and their communities, from rising wages to more accessible opportunities to higher education. However, backlash against the president's progressive attitude toward undocumented youth and immigration reform partly fueled Trump's success throughout the GOP primaries and general election, according to studies performed by the Pew Research Center, which found the majority of Trump supporters think immigration in the U.S. is a "very big problem."
Obama has urged the president-elect both behind closed doors and during a national press conference to consider how a pledge to deport millions of immigrants might impact a future generation of Americans.
"I will urge the president-elect and the incoming administration to think long and hard before they are endangering the status of what for all practical purposes are American kids," Obama said in a press conference Monday. "These are kids who were brought here by their parents. They did nothing wrong. They've gone to school. They have pledged allegiance to the flag. Some of them have joined the military. They've enrolled in school. By definition, if they are part of this program, they are solid, wonderful young people of good character. It is my strong belief that the majority of the American people would not want to see suddenly those kids have to start hiding again."
Groups online like United We Dream are already calling on local governments to fight against Trump's promised deportation force and repeals that would see families, like the one Zinn and Zamora have been planning to build for years, torn apart.
"DACA recipients are resilient, and ready to fight and defend themselves," Rodriguez said. "There is a growing coalition of lawyers, community members and citizens all coming together to protect DACA recipients and minorities attacked by Trump's campaign."
© Copyright IBTimes 2023. All rights reserved.
FOLLOW MORE IBT NEWS ON THE BELOW CHANNELS