Will Eliza And Corinne's Feud Lead To Trouble On 'The Amazing Race?'
The competition has only continued to heat up on Season 31 of "The Amazing Race" as teams grate on one another in their quest to not only win $1 Million but also earn their initial reality series bragging rights. However, as the journey continues in Vietnam, one team will be saying goodbye to their journey.
In a preview clip for the fourth episode of the CBS series, teams find themselves facing not only physical harm in some cases as they try to complete their challenges, but also getting even more heated when it comes to the feuds they're engaged in—especially as former "Big Brother" stars Rachel Reilly and Elissa Slater clash with "Survivor" alums Eliza Orlins and Corinne Kaplan.
"Eliza tried to take our cab," Elissa says in a preview clip.
However, despite the "Survivor" team being the ones who committed the big Race faux pas, they are the ones who seem more frustrated with the sisters, expressing disgust at them, especially as the two seem to move ahead of them at a task.
"Why are we not better at this than they are?" Eliza asks in the clip.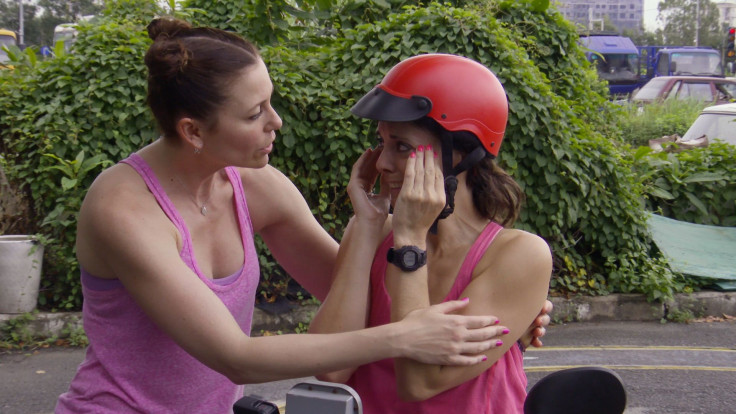 Meanwhile, the teams will have a rough time with the Roadblock, as one member of each pair is forced to ride a manual scooter around a course—but have to also properly balance themselves to prevent falling in order to succeed.
In a sneak peek, Leo Temory and Jamal Zadran, as well as Rachel and Elissa, arrive at the Roadblock to complete the task. However, despite Rachel and Leo trying to cheer their teammates on, both Jamal and Elissa struggle as they try to get through it.
Jamal struggles through at least four attempts, while Elissa still seems to be having trouble through at least five—and Jamal admits that there's a reason why the teams are struggling.
"You have to make like a number eight, basically go in one big circle and come back," Jamal says as he describes the challenge. "And on turns, you have to be careful because this is not an automatic scooter. A lot of the balancing has to do with your body weight. If you go too fast, you're going to lose control."
"The Amazing Race" airs Wednesdays at 9 p.m. EDT on CBS.
© Copyright IBTimes 2023. All rights reserved.